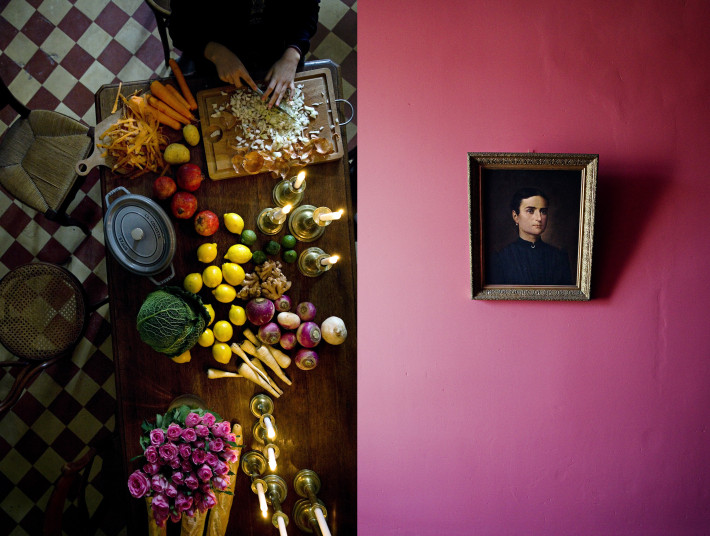 Early last week, as the festivities were slowly winding down, as we had just said goodbye to the big kids who returned to their school in Iceland, France was shaken by terror. I was working on a long overdue new blog post that I planned to publish later in the day when news of the horrible events in Paris reached us. I was deeply saddened by what was happening in Paris and it made me worry about what the future holds, not just for France but for the entire world. I couldn't bring myself to continue working on the blog post, when people are getting killed, when a whole nation is grieving, who cares about recipes for carrot soup or a family's move to a new house?
A few days later my husband brought up the post that hadn't been published and reminded me of a story I had read in Adam Gopnik's "The Table Comes First". It's about a young man waiting to be executed by the Nazis, writing a final letter to his parents discussing some of his favorite meals and future meals they will have without him. In the past week I've come to realize that simple things like sharing a table at dinner with the whole family are never more important than in times of turmoil. The comfort of good food, the healing power of a shared moment is never more needed than on a cold January night when bad news reaches your door.
So we continue to lead our lives, cook, eat, laugh and cry together and hope that by raising our children to the best of our abilities will help create a better world.
Here is a story of one family's move to a new house on Christmas eve and a few recipes to go with it.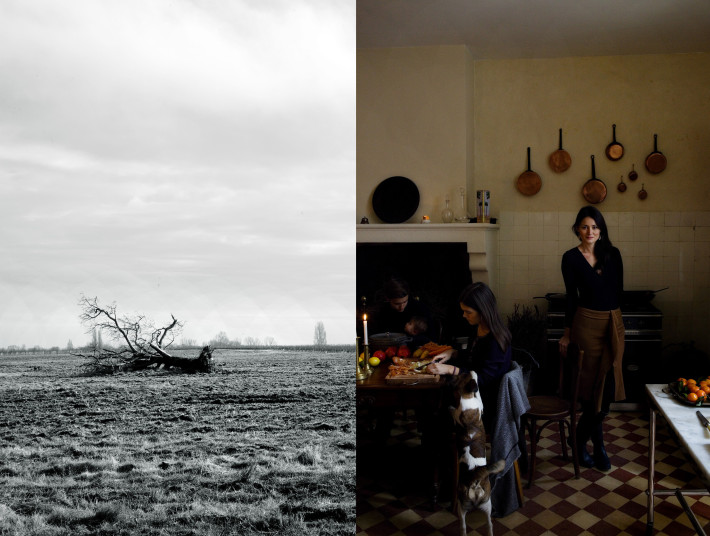 Midnight in St Yzans
As many of you know 2014 saw us finding and ultimately buying a big old house in a little village just by the Gironde estuary. By autumn renovations had begun in earnest and in October we set ourselves the target that come hell or high water we'd at least be having Christmas dinner in the new house though we all hoped we could move in sooner. The guys working in the house were not as optimistic. The smirked and shrugged their shoulders (the French/Russian version of "whatever"). It was all very cute, they thought, but no way was anyone going to live in the house by Christmas. What they didn't account for though was my unrealistic optimism (that's often gotten me in trouble) and my husband's Icelandic bloody mindedness. I often say that Oddur and I are two heads on the same dragon and this Christmas the dragon was headed for St Yzans. By early December the mother in me started getting protective of the children's Christmas and I insisted getting a Christmas tree for our old house, to enjoy through December and, also … just in case. By mid-December, to the irritation of my husband I changed my tune from "when" to "if we have Christmas in St Yzans" and though he tried every trick in the book, including drafting the gardeners to assist with the painting it seemed that Christmas would not be held in the new house after all. By lunchtime, still in the old place I started taking out my cutting boards, sharpening the knifes, going over recipes in my head. One more big feast, prepared in my old "Kitchen in France". But that wasn't to be either, Oddur returned from St Yzans, more determined than ever with that crazy look in his eyes and pleaded for my cooperation. And how can you say no to an exciting adventure on Christmas eve? By late afternoon he dropped me and the little girls off in my new kitchen, stacked with beautiful ingredients like quail, pigeon and duck, bottles of Champagne lined up for days of festivities, vegetables piled like old still life paintings. He promised to be back by seven, he was not. At 9 o'clock they arrived, the rest of the family, seven dogs, a car so full that the windows were popping out. Oddur's suit squashed against my Wellington boots and the rest of the Christmas presents. Everything that was necessary was brought along, everything that was not was left behind. Interestingly my high heels and stockings were deemed necessary, my toothbrush was not.
By 9.30 we were having Champagne and foie gras in the kitchen, still in our "civil clothes", by 10.30 the Christmas tree was being decorated and at midnight we had the most beautiful Christmas lunch I've ever had in my new, oh so inspiring kitchen in St Yzans. Opening presents under the huge, rather dimly lit tree followed, by 3 everyone was in bed, except my husband who was doing the dishes in the only working sink in the house … just as he had promised.
There are times when having a crazy husband isn't so bad.
Return of the table & a bed of roses
Our new house has had many lives, it used to be a wine-making château and then later a hotel & restaurant. When we bought it the previous owner left us quite a bit of beautiful furniture that we've been cleaning and restoring but since it's a big house we needed many more pieces. After spending a few afternoons in my new kitchen earlier this winter (before we moved in) I started thinking about a perfect table for the room. I found some photos that looked like what I wanted, a sturdy oak table with drawers for cutlery and Oddur and I searched for something similar around the local antique stores. One day he was driving past a little shop, popped in, liked what he saw and after I had approved by sms (technology can be so useful) he brought home exactly the table I wanted. Now this isn't really that interesting, people find tables every day, but wait, there's more. A few days after, the previous owner, Monsieur Ladra, stopped by to give us some guidance regarding the plumbing (a labyrinth comes to mind) and when he entered the kitchen his jaw dropped to the floor. "Where did you find that table he said, his voice almost shaking". It had been in our house for over 80 years before he sold it to and antiques dealer some months before we bought the house and now the table had found its way home. It may just be a simple little coincidence but typing this gives me goosebumps. And talking of furniture it is such a pleasure to visit the past through carefully made objects. One of the rooms had an old bed and matching closet with carvings of roses, made in the 1920's. It's a little small for us but I just had to have that bed in our room. Taking it a part was a pleasure, the craftmanship of such high quality, the whole closet is held together by only a few screws and meticulous carpentry. On the back of the closet is a little label stating that it was custom-made for Madame Pautard (remember Plantia, the lady who dressed in black and charmed everyone with her cooking).
Good furniture, like good food is always better when it comes with a story.
Flavor of the month
Two days after we moved in we were joined on the 26th by Gunnhildur and Þórir and happily invaded by our dear friends, the Hraneks (Matt, Yolanda, Clara) who have just bought two houses opposite our's. What followed was an endless succession of feasts, amazing Médoc wines, great conversation … and doing dishes in that little sink in the makeshift bathroom. (We have found a nice old porcelain sink for the kitchen but as we were preparing to install it the plumber realized that the evacuation ended not in the sewers but in our garage – "Madame we have a big problem" is the sentence I hear most often these days. New year's eve saw us inaugurate our red dining room (you know the saying that a compromise is where two people get what neither of them wanted – well I wanted to go pinkish, my husband favored terracotta so we ended up with pure and simple red – we are both sort of happy with it though). And this is where I finally get to the point. After all this rich, delicious food, after the Hraneks had left we just needed some new spices, a whole new flavor. And that flavor turned out to be saffron. I have this habit, come early January, just because the days are getting slightly longer, because it's a new year, to think of spring. And spring calls for something fresh, uplifting and exciting. So for a few days in early January we went mad for saffron and citrus, I might not like orange on the walls but on my plate it is always welcome. I think I've made that carrot soup at least 5 times this year, ginger is so healing and tasty. The chicken was originally supposed to be a fish course but poultry was easier to find and since I was using saffron for the main, why not put it into the souffé too?
A new year calls for new flavors and new adventures and though this year started in a much sadder way than any of us could have anticipated we must be brave and hopeful.
We as a family have never experienced anything like what those who lost their loved ones in Paris are going through now but we do have a little family motto taken from the poem by W.H. Auden that lent it's title to this post. The subject of the poem is the humblest of rooms but that 's not why I like it so much. The final two lines capture my heart like few other lines have and seem to me so filled with truth and meaning. I think no words are better suited for the beginning of this year.
"Face with all our courage
What is now to be".
p.s. I know that my cookbook, "A Kitchen in France" was only published in October last year (and hasn't even been published in France yet – will be by Hachette in October 2015 this year) but I am so happy and proud to announce that I will be writing another cookbook with Clarkson Potter/ Random House to be published in the fall of 2016. Again I will have the chance to work with Oddur on the photos, with the best editor in the world, Rica Allannic and the whole dream team at Clarkson Potter, Anna, Kevin, Doris – here's to continuing the story. This time we will focus on the new house, the restaurant, I am sure Plantia will pop up somewhere.
Regarding the workshops that I announced just before Christmas, I am astonished by the positive response and happy to report that so many of them are already full. We do still have some availability here and there though, especially in November 2015 and for the December 2015 Christmas workshop but a few places in the spring and summer months too.
And on that note I am equally overwhelmed by all of you who have written to me about helping with the seasonal restaurant and though I haven't had time to reply to the hundreds of letters I've received I want you to know that I've read them all and will answer you in the coming weeks. There is still some uncertainty around dates, how many people we will need etc so no decisions have yet been made. I apologize for this delay, you'll hear from me soon.
Finally I am so happy to have signed on as a regular contributor for French ELLE 'Fiches Cuisine'/ Recipes starting February this year. It is the magazine of my childhood, my French mother read it religiously in Hong Kong and I saved all the little recipes they print on special sheets that you can tear out. To think that these will now be my recipes is a little girls dream come true.
Mimi x
Carrot & ginger soup
Serves 6
900 g/ 2 pounds carrots, peeled and sliced
2 small potatoes, peeled and sliced
1 large onion, sliced
1 stick of fresh ginger root (about the size of a finger), peeled and grated
1 teaspoon ground turmeric/curcuma
A pinch of nutmeg
2 tablespoons extra-virgin olive oil
1.3 litres/ 5 & 1/2 cups chicken or vegetable stock
A few sprigs of chives, chopped finely
120 ml/ 1/2 cup cream
Sea-salt and freshly ground black pepper
In a large pot, heat the olive oil and cook the onions, carrots and potatoes for 2 to 3 minutes. Season with salt and pepper, add the ginger, turmeric and a pinch of nutmeg. Pour the chicken or vegetable stock, stir all the ingredients. Bring to a boil, cover and lower the heat. Cook for 25 minutes. Mix the soup with a stick blender and add the cream. Reheat on a low heat for a minute or two. Sprinkle chopped chives if desired.
Lemon chicken with saffron sauce
(serves 4)
1 large chicken (approx 2 kg/ 4.4 pounds) , cut into pieces
475 ml/ 2 cups crème fraîche
60 g/ 4 tablespoons unsalted butter
300 g/ 2/3 pounds porcini mushrooms (or mushrooms of your choice), quartered
1 large onion, sliced
2 tablespoons plain flour
Zest of 2 lemons
Juice of 1 lemon
2 garlic cloves, sliced finely
240 ml/ 1 cup white wine
1 tsp saffron threads
A pinch of ground nutmeg
Salt & freshly ground black pepper
Melt the butter in a large cast iron pot. Brown the chicken pieces on all sides and season with salt & pepper (once browned, take out the chicken breasts and add them to the pot halfway so they don't overcook).
Add the sliced onion, garlic and mushrooms and continue to sauté for a few minutes. Sprinkle the flour all over the ingredients, then pour the wine – leave to reduce for a few minutes on a medium heat. Add the lemon zest, saffron threads, nutmeg and lemon juice. Add the crème fraîche, lower the heat and cover.
Season accordingly with salt & pepper. Leave to cook on a low heat for 30 minutes.
Serve with steamed potatoes or wild rice.
Lemon & saffron soufflé
Serves 4
160 ml/ 2/3 cu full cream milk
Zest and juice of 1 lemon
3 eggs, separated
A pinch of saffron threads
25 g/ 2 tablespoons granulated sugar (, plus extra for the ramekins
15 g/ 1 tablespoon unsalted butter
15 g/ 2 tablespoons cornstarch
Confectioner's sugar, for sprinkling
Preheat oven to 200°C/ 400°F
Line the soufflé ramekins with butter and sprinkle all inner sides with granulated sugar. Shake off excess sugar. Place ramekins in the refrigerator and leave to cool for at least 20 minutes.
Grate the zest of a lemon and squeeze the juice.
In a medium-sized saucepan, heat the milk and bring to a slight simmer on a medium to low heat. Add the saffron. Set aside.
In a large bowl, whisk the egg yolks. Add the lemon juice, cornstarch and lemon zest. Pour the warm milk on the egg mixture whisking continuously. Return the mixture into the saucepan and place on a medium heat. Stir until mixture thickens slightly. Set aside.
Whisk the egg whites, adding the sugar gradually, until stiff. Fold in the egg whites to the cream mixture with a large spatula.
Pour mixture into oven-proof soufflé ramekins and bake for 6 minutes, or until well-risen and golden.
Sprinkle with confectioner's sugar before serving. Serve immediately.