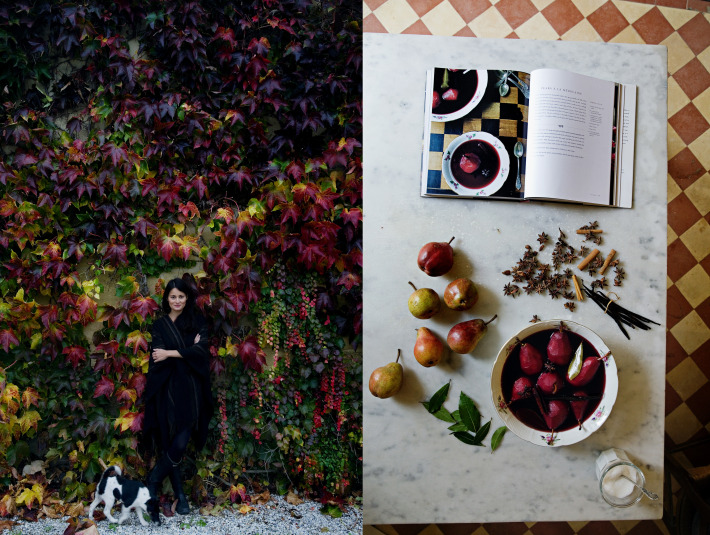 Anatomy of a house
St Yzans is a quiet little village perched on a small hill in the middle of vineyards. Is has a big church, a small school, a Citroën garage and one little shop that is also a café. In the morning a white car delivers baguette to those who want it, maybe not the best baguette in France but a charming feature nonetheless. The village is so small that if you walk any street, in any direction for a few minutes you'll find yourself amongst the vines. One of those streets is my street, rue de Loudenne. House number one on that street is an L-shaped old stone house with countless rooms and vast corridors. It's been empty for years, safe for a few rooms that were inhabited by the previous owner's mother. Everything else remains untouched, no weird renovations and less favorably, not much restoration.
My first love in this house is the old staircase, so grand, so beautiful that I would have settled for only that. I remember walking through the front door for the first time in late January this year, then standing still for a few moments, imagining my children running up and down the stairs, followed by dogs, of course. I imagined myself walking down the stairs on a festive evening wearing a long, elegant, flowing dress, followed by dogs, of course. Next to the staircase is the kitchen and I imagined persons of the past streaming in and out of the door, holding silver trays with delicious food, carrying them up the stairs and into the other wing where guests would dine under crystal chandeliers. Maybe they are still carrying trays up and down, who knows, in any case the house has been idle for so long I am sure the ghosts are happy to have some company.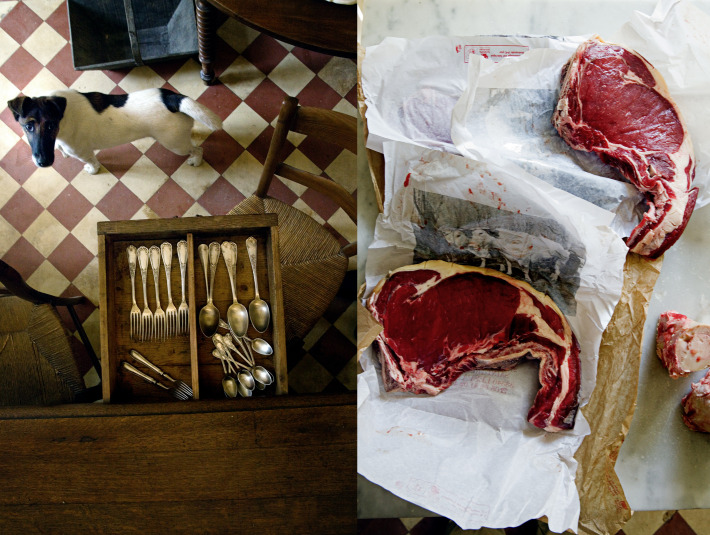 Next to the kitchen on the first floor is a room, then another, and then a bigger room, the harvest room, which will be the principal room for my cooking workshops and restaurant. That room has an old staircase and under it, another kitchen, smaller, more rustic – even prettier than the first. In a few weeks or months all these rooms will be filled with food. They will be filled with bistrot chairs and simple tables, with mountains of fresh vegetables and fruits, with birds and hams and sausages hanging from the ceilings. Chests and cupboards will be overflowing with silverware and white cotton napkins and tablecloths. In one corner of one of the rooms will be the prettiest pine-wood cupboard that reaches from floor to ceiling – that's where we'll keep the tableware.
Outside the harvest room we have just planted a nicely sized olive tree with thousands of shiny black olives and next to it a few smaller ones. It makes me happy to think that next summer guests can dine in the shade of that tree and on rainy days we'll leave the dining room doors open so everyone can enjoy the comforting sight of summer rain showering the garden.
Right now the only room that's ready, and it isn't REALLY ready, is the kitchen. Though we haven't moved in yet we have already had several meals in there, to try it out, and mainly just because I adore being there. Everytime I leave I feel sad, if it wasn't for my big family I think I might just sleep there on those red and cream kitchen floor tiles.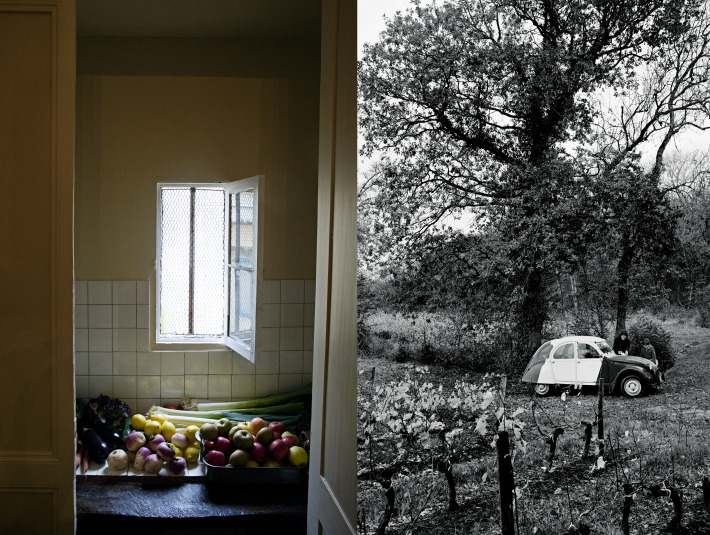 When we first made an offer for the house we found out that it was once owned by a formidable lady called Plantia Pautard. She always wore black dresses and she loved to cook. This much I knew, but the last few months have seen me piecing together little bits of information, old photographs, documents and declarations. But what did she like to cook? Everytime I run into someone elderly in the village, someone who might have known her I am all over them like a hawk. Luckily they are all happy to share. So far I've found out that she loved to make coq au vin. I discovered that blanquette de veau was her absolute signature dish, a recipe she reserved for special occasions. Last week I ran into an older man in the village who remembers her from the time he was a little boy. He used to bring her fava beans from his parent's garden and he told me she used to scold him if they were too small. She like them big for her favorite soup which just happens to be my favorite soup too. Everyone remembers something about her cooking.
I believe in coincidences but I also believe in fate. So far everything Plantia liked I like too. In fact I like it so much that it's all in my cookbook "A Kitchen in France". And from now on I'll be cooking them in her old kitchen in France.
As I said there are coincidences … and then there is fate.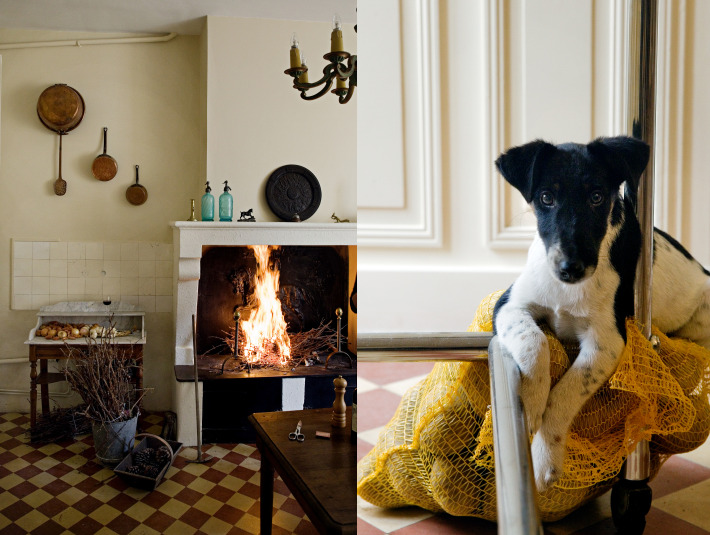 Recipe testing – afterwards
The kids are just as excited as I am about my cookbook, but for different reasons perhaps. Louise has been counting the photos of herself and while she's not unhappy about her grand total she's a bit bothered by the fact that the biggest photo is of her brother and main rival, Hudson. He in turn is more of a worrier and asked me lately if I was sure that all the recipes worked. "Of course they do", I answered "You have my food every day – don't you like it?" "Yes I know YOU can do them but maybe they printed something wrong and everybody will be angry" he said. So he decided to try one and insisted that he would choose it himself. He's been very interested in wine since we decided to make our own and though he was initially leaning towards the chocolate meringues he decided to go for the Médocain Pears drenched in wine. I promised to help, but not too much. My new fireplace, complete with a 650-kg iron sculpture is just screaming to be used so this week I kept my promise to the restoration guys and cooked them an entrecôte (rib-eye steak) feast with shallots and bone marrow – also from the book. Call me crazy, delusional even but everything seems so easy in that kitchen, everything just falls into place. It's as if all the cooking that happened there once upon a time is simply waiting to happen all over again.
And for those of you who are wondering what we were doing driving around vineyards in a flag colored 2CV – here's the explanation: It belongs to a friend who lent it to us for some filming we were doing last week and Oddur just can't bear to give it up (even if he has problems starting it). Driving around in the French countryside in an old Citroën, with just a few baguettes and a piece of Camembert is not the worst way to spend a chilly November afternoon.
On a practical note so many of you have been in touch and shown interest in my upcoming cooking workshops. We are still working out the finer details, prices, duration etc but I am thrilled to announce that we will start on the 17th of March 2015. We decided not to wait until the guest rooms are ready and have found some great places to stay for those of you attending the first classes.
So for those of you who are really interested and who are able to come in March please don't hesitate to contact me – that first class will be a special one.
Next week, we will be in New York! I will be hosting two book signing events, one at Kisan (125 Greene Street/Soho) on Wednesday, November 19 from 6:00-7:30pm & another one on Thursday, November 20th at Strand Bookstore @ Club Monaco (160 5th Avenue/Flatiron district) from 12:00-1:30pm. I am expecting you… see you there! Beyond excited. Mimi x
A KITCHEN IN FRANCE, A Year of Cooking in My Farmhouse
Published by Clarkson Potter / Random House available for sale on
Amazon – B&N – Indiebound and in bookstores.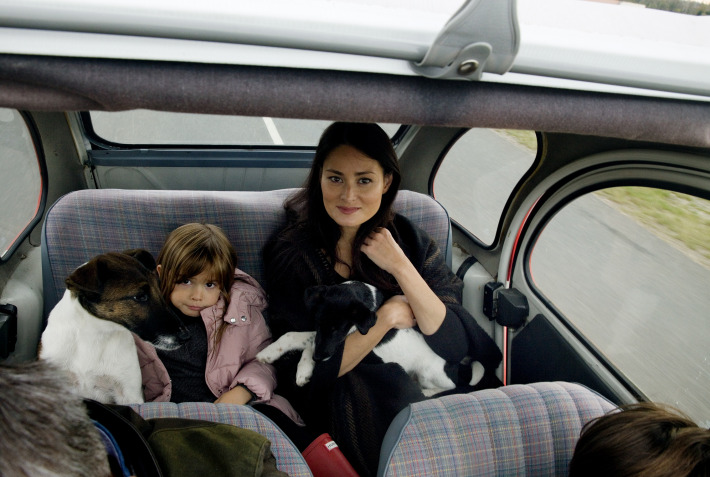 Recipes from my book "A Kitchen in France".
Grilled entrecôte à la Bordelaise
A big juicy entrecôte, or rib-eye steak, seasoned with just salt and pepper and cooked over high heat until crusty and juicy, has always had a special place in my heart. Frankly I didn't think it could be improved on—that is until I moved to Médoc. As you will be well aware of at this point, the people of Bordeaux love adding shallots to everything. Here they work wonders and really complement the flavors of the meat. Add a bit of bone marrow ,and you are in meat heaven. It's fine to cook this entrecôte on a regular grill but if you want the full Bordelaise effect, I recommend adding dried grapevines to the fire so that a hint of Cabernet or Merlot finds its way into your steak. Having this dish without a glass of red wine is a crime!
Serves 2
4 beef marrow bones
One 1-pound/ 400- to 500-g rib-eye steak
Fine sea salt and freshly ground black pepper
6 shallots, finely chopped
Prepare the oven to 400°F/ 200°C
To remove the marrow from the bones, put the bones in a baking dish and bake until the marrow is soft enough to scrape out of the bones, 10 to 15 minutes.
Prepare a medium-hot fire in the grill. You can add dried grapevines, if desired (to increase the smoky flavor).
Season the meat with salt and pepper. Grill the meat until browned and cooked to medium-rare, 3 to 4 minutes per side.
Heat the blade of a knife over the grill and spread the bone marrow over the meat. Sprinkle the shallots all over. Remove from the grill and serve immediately.
Pears à la Médocaine
I love having pears on my kitchen table; they age gracefully, the full colors come out, and they never taste better than just before they go bad. I usually try to catch them just at that moment and put them in a cake or tart or simply have them with some nuts, cheese and a glass of wine. It won't surprise you that here in Bordeaux they like to drench pears in wine, which makes them very tasty and breathtakingly beautiful. If I were a painter, this is the dish I would paint first. Then I would eat it. (Actually, because I'm such an impatient gourmet, I would probably eat the pears first and then paint them from memory.)
Serves 6 to 8
3 cups/ 750 ml dry red wine
1 3/4 cups/ 350 g graduated sugar
1/2 vanilla bean, split lengthwise, seeds scraped out, seeds and beans reserved
1 cinnamon stick
2 bay leaves
2 star anise
6 to 8 large pears, peeled but stem left on
In a saucepan large enough to hold the pears standing upright, combine the wine, sugar, vanilla bean and seeds, cinnamon, bay leaves, and star anise, mix well, stirring to dissolve the sugar, and bring to a low boil over medium heat. Add the pears, stems up, cover, and simmer, turning the pears occasionally so they cook evenly, until they are tender, 30 minutes.
Let the pears cool, then refrigerate for 24 hours in the syrup. To serve, divide the pears among shallow bowls and spoon some of their syrup over them.