It's November again, and predictably the rain has started. These day Médoc is damp and chilly, the frogs are having a ball and I deal with it all by making fires. I love lighting a fire, then I make myself a strong cup of tea and let the flames warm me up as I sit on a little chair as close to the fireplace as safety allows. My husband says that I look Whistler's mother during those moments, I think it's his way of saying that I look like a granny. I don't mind that, I feel that we are all several people, I certainly have a little girl in me still, and an old granny. We all get along fine.
We've had some spicy food lately, nice Indian dishes that go very well with rain. So does tea & biscuits, most English food I suppose, it has to. Yesterday morning I went to the market and came home with beautiful veal chops. I had no special plans for them, they just were the most tempting meat at the butcher's. We also got a bunch of vegetables, a full bag of fresh aïl rose (the most beautiful pink garlic), a bit of cheese. But there was no revelation. I still didn't know what to cook. My mind kept asking "what goes well with rain?"
For lunch we had a bit of everything, some charcuterie, nice bread, a warm soup. Then the forest beckoned. Officially it was just a little Sunday stroll but we all were wondering if we could find some girolles. This fall we've had more girolles than cèpes and we heard it through the grapevine that not too far from us, where there is an ostrich farm, there were plenty of girolles. We parked the car next to the farm, Oddur lifted the kids up so they could take a peak over the fence, where the birds live. Then we found a little road and headed down on foot. I guess there was a time in history when four people could walk down a path in the forest and be themselves but I at least can not be in such a situation without feeling that I am in Oz. I used to be Dorothy but now Louise has claimed that part, with her red boots and all. Mia, with her thick mane must be the lion and Hudson the tin man … which leaves me with the scarecrow. My husband, sneaking around with his dogs and camera, ever-present – never seen, would be the wizard.
As we walked further down the path things got darker, the forest thicker. Everything was so damp and slippery, fallen leaves everywhere, acorns and all sorts of mushrooms. So wild that it made me think of another reference. Maybe we weren't in Oz, maybe we were simply taking a "walk on the wild side". Like many others we've been listening to a lot of Lou Reed lately. Velvet Underground is high on my list of musical favorites – "it's some kinda love". We found no girolles, not one, but on the way home it struck me that a charlotte aux pommes (apple charlotte) would go perfectly well with rain. I have so many apples and couldn't wait to get started. But what about the veal chops? I realized they would have been smashing with some girolles, I thought of the sauce I would have made, with wine, the juices of the mushrooms, oh what a shame.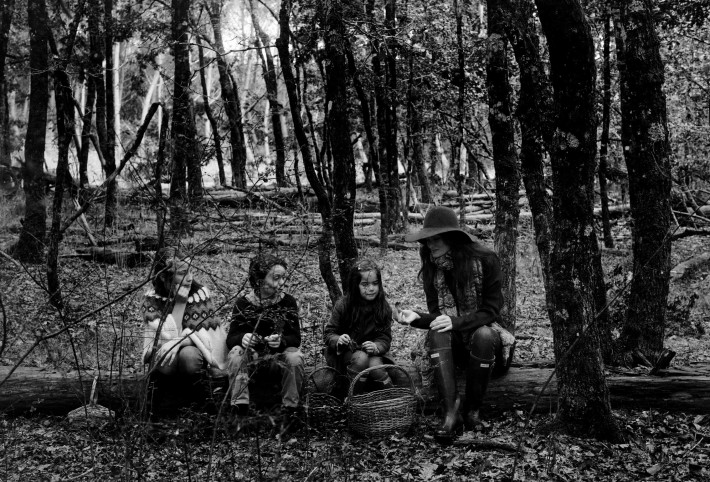 Mia kept talking about this place near our house where she had once found girolles. "Maybe we can go there" she said with a hopeful look in her thick French accent. I was already out of the car, but I had a feeling that Oddur would respond to her call to arms. And he drafted the two younger soldiers who had really had enough and just wanted to go in and play. I used the time well, made the apple charlotte (the granniest cake of all), lit a fire. An hour later they came back with a full basket, Mia had been right. You should always listen to children.
When I sat at the dinner table later that evening, the veal chops and girolles so delicious and well suited to the weather, everybody's face beaming with delight and satisfaction (well apart from Louise and Hudson quarreling about who found more girolles) I thought to myself, even in the rain this was such a … perfect day, I'm glad I spent it this way.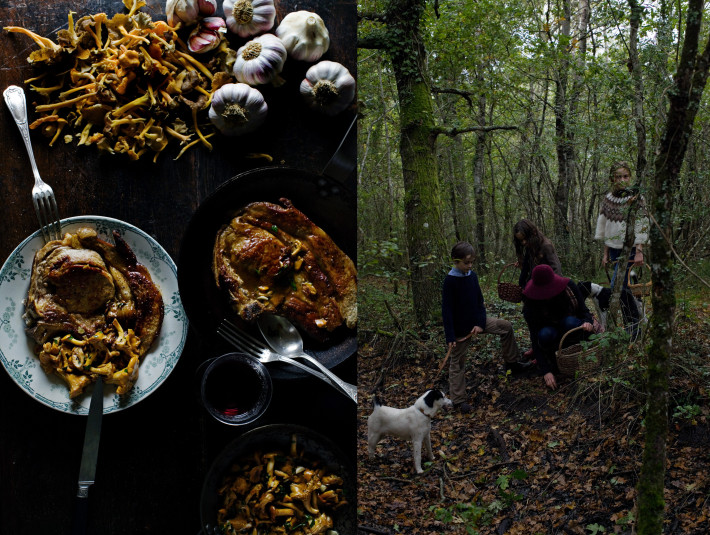 Veal chops with girolles mushrooms
(serves 2)
2 good-quality veal chops
500 g/ 1 pound fresh girolles (chanterelles) mushrooms
1 clove garlic, sliced finely
A few sprigs of parsley, finely chopped
80 ml/ 1/3 cup white wine
2-3 tablespoons duck fat (alternatively you can use olive oil or butter, or both)
2-3 teaspoons butter
Coarse sea-salt & black pepper
Clean the mushrooms and pat dry gently.
Season the veal chops with coarse sea-salt and freshly ground black pepper.
Heat a tablespoon (or two) of duck fat in a large frying pan and sauté the girolles mushrooms on a high heat for a 4-5 minutes. Add the garlic and parsley a few minutes towards the end. Set aside and reserve all the liquid from the mushrooms.
In the same pan, heat one to two tablespoons of duck fat on a medium to high heat and sauté the veal chops on both sides until golden brown, about 3 minutes on each side or until desired cuisson. When the veal is just about ready, pour the reserved mushrooms liquid, reduce for a few seconds, then add the wine and 2 teaspoons of butter. Let the sauce reduce for about a minute, season accordingly. Return the girolles mushrooms to the pan for a few seconds. Serve immediately.
Apple charlotte
700 g/ 1 & 1/2 pound apples, peeled and cored
80 g/ 1/3 cup butter + 60 g/ 1/4 cup for the brioche bread
6 to 8 slices of brioche bread
5 tablespoons brown sugar
1/2 vanilla pod, split lengthwise
2 teaspoons ground cinnamon
3 tablespoons calvados (optional)
Preheat the oven to 180°C/ 350 F.
Peel & core the apples, cut them in quarters. In a large skillet, melt 80 g butter, add the apples, cinnamon, sugar and vanilla beans. Cook for 10 to 15 minutes, until the apples are golden on both sides. Add the calvados and reduce for 2 minutes.
Line a charlotte mold with butter. Cut the crust off the brioche bread. Slice the bread into neat rectangles.
Melt 60 g of the remaining butter and brush each bread slices on both sides. Heat a frying pan on a medium heat and place the buttered bread slices for a few second son each side until golden. Set aside. Line the charlotte mold with the triangles in the base, then with the rectangle slices on the sides. Try to arrange neatly so there is not gap in-between each slices.
Fill the mold with the apples (saves a few slices if you wish to decorate the top later), seal with a few slices of remaining buttered bread slices.
Prepare a bain-marie. Place the charlotte mold in the center of a large and deep oven-proof pan, pour boiling hot water until it reaches halfway up the mold. Cook in the oven for 30 minutes. Leave to set for 10 minutes before unmoulding. Serve with a crème anglaise.
Note: You can decorate the top of the apple charlotte with a few slices of apples.
Crème Anglaise (custard cream)
300 ml/ 1 & 1/4 cup milk
50 g/ 1/4 cup sugar
1/2 vanilla pod, split lengthwise
3 egg yolks
In a saucepan, heat the milk, vanilla beans and sugar until it reaches a soft boil.
In the meantime, whisk 3 egg yolks in a medium-sized bowl. Pour the milk in the egg yolk bowl, whisking continuously to avoid curdling. Pour the mixture back in the saucepan, set the heat to low and whisk until the sauce thickens to a custard cream.