The name on the label
Last year, as some of you may remember, my husband and I had a rocky but ultimately quite a perfect Valentine's day. So this year I wanted another serving, more of the same, roses, perfume, oysters & wine. Inspired by "amour" I decided that the theme of my next post would be an amazing Valentine's day menu paired with the most suitable wine of all, one with a heart on the bottle – Calon Ségur. I've told this story before but let me repeat it. Once upon a time a marquis, dubbed "prince of the vines" due to his extensive and numerous vineyards, declared that while he owned the most prestigious properties in France, his heart would always remain in Calon (St. Estèphe). So they put a heart on the bottle and it has remained so ever since. Now anyone who appreciates good wine will enjoy a bottle of Calon Ségur on any day of the year but it is never more appropriate than on special occasions or, in this case, on lover's day. You can of course get a bottle in many wine stores but when you live 10 minutes away, going straight to the Château is just a little more fun. St Estèphe is my favorite wine-making village in Médoc, a tiny place with a huge reputation. A wine lover making a pilgrimage to St Estèphe might at first be slightly disappointed, thoughts of "Is this it?" might enter his head. A beautiful church, a wine store that is often closed, a great butcher hidden in a corner and a café that is sometimes open. But that's what I love about it, the smallness, the quiet, it's got that spaghetti Western feel and sometimes I half-expect Clint Eastwood to come blazing out of the church … to get some steak at the butchers. St Estèphe also has a curious local that used to be a bistrot and, in my opinion, should be again. I happen to have my hands full these days, in another equally charming but less famous village, but I hereby dare any of you to pack your bags and bring the place to life.
When we first moved to Médoc over 4 years ago we had no idea what to expect and I, still clinging to my city roots, kept stating that this was only an experiment. We used to say that whatever would come of it at least we'd be familiar with a part of France where some of the most amazing wines in the world are made. After the move when our friends and family asked us (often doubtingly) about our reasons my husband answered like this:
"One day we'll be sitting in a restaurant in New York looking at the wine list and a smug sommelier will home in on us and recommend a wine from France. Then he will proceed to educate us on Bordeaux wines and, if he's knowledgeable, talk about the particular village he's suggesting. We will listen attentively, even smiling and at the end of the speech we'll say "We'll take that one". And while we drink it we will know what it feels like to stand on a sunny day in front of the little church, we will know that down the hill from the village is the Gironde estuary where, mostly old men have fishing cabins and where, late in summer, there are endless stretches of colorful flowers. We will know what it feels like to walk amongst the vines at Calon Ségur, or cycle a bit further north where one of Châteaux has the most amazing old greenhouse in ruins."
Nobody ever thought that was a very good answer but I guess it's all about new experiences and simply knowing things. Knowing where things come from, where they are made and what the people making them are like.
In any case it's a romantic idea and romance was on my mind in the days before Valentine's day. Until I realized that we had other plans. Accidentally, without thinking of dates, we had scheduled a week-end with a lovely Norwegian/English couple, Anne & Tim who will be helping out with the workshops and the seasonal restaurant. Valentine's day is not really made for 4 people who don't know each other. (On this note I would like to say to all of you who have sent me letters regarding help for the seasonal restaurant that I continue to read them all as they come and no decisions have been made at all. I'm sorry it's taking so long and I would have loved to answer you all quickly, but the sheer volume is staggering and our plans for the summer are still a bit unclear. But I promise I will answer you all and, if you are still interested, there will be an adventure in it for some of you).
Even if there was no romantic dinner, my husband still brought me red roses, he got the oysters and eventually there was candlelight for the whole family. But the best part of the day and the most unexpected came in the early afternoon when we were getting ready for a snack-lunch. In the beginning of the year two good fellows from Latresne brought us a piece of furniture that a friend had spotted at their antiques store. It's an old counter from a textile store that I am sure will prove useful somewhere, I just don't know where yet. When we were unloading the counter we spotted a huge closet in the lorry, something they had just picked up from it's previous owner who wanted to sell it. It's a gigantic piece of furniture, over 3 meters long. We simply fell for it and bought it on the spot. Some pieces needed fixing so we couldn't have it immediately (difficult for the impatient me) but they promised to bring it soon. And they did – on Valentine's day just as we were sitting down to lunch. My husband had two choices. Help them carry in the object and have cold lunch or invite them to join us and leave the carrying for later. It was an easy choice. So this unorthodox Valentine's day was made even more so with the whole family, Anne and Tim plus the antiques dealers sitting together for a first meal at a table in one of the rooms we are preparing for my cooking workshops. And then my husband started photographing it all (this is now officially the longest photo caption in the world – but at least you get the picture).
My romantic Valentine's day dinner was supposed to be very special and one of the things I wanted to make were cocoa crunch meringue sandwiches from Dorie Greenspan's new book, 'Baking Chez Moi'. My editor, Rica, sent me a copy of her book before Christmas and I have loved everything I have made from it. The idea of these little bijoux seemed so inviting and though I missed my chance to serve them on Valentine's day the stubborn me still wanted to finish the menu. So on Sunday the 15th of February I started whipping up meringues in my kitchen, making a delicious chocolate filling and assembling them with the meticulousness of a master jeweller. My main thought, "I can't let Dorie down – they have to be beautiful." And they were, and oh so yummie delicious. Merci mille fois Dorie.
But my menu wasn't finished yet, I had served the starter, a cauliflower salad, to the whole gang on the 14th, I had made the dessert but what about my main? Well I took care of it the next day, on Monday the 16th, the finest beef, rolled in pancakes and topped with a little rose made out of paprikas.
Sometimes you just have to finish the meal you started, even if it takes three days.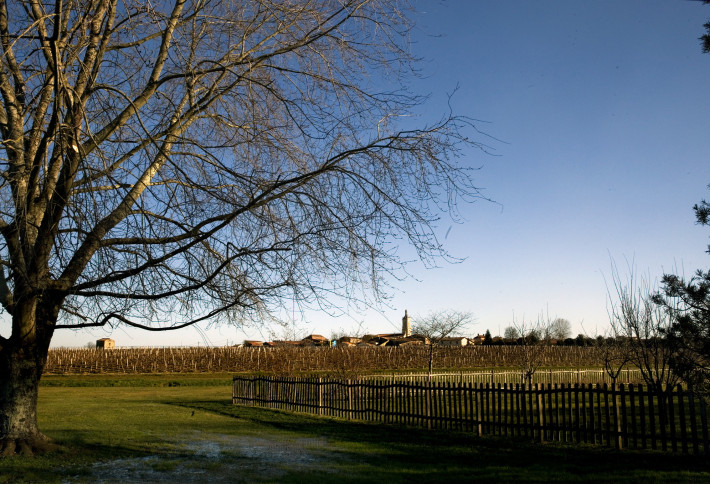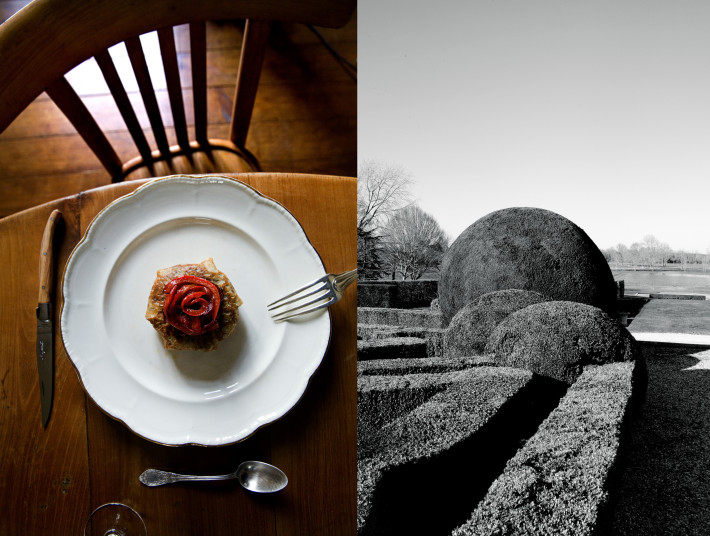 Me and Mr. Roberts.
Some weeks ago I got the news from my publishers at Random House/Clarkson Potter that the popular website, food52.com, had selected my cookbook, A Kitchen in France, as one of the 16 most notable cookbooks of the year. And as such it would be competing for the "Piglet" award, an entertaining tournament of cookbooks where books are pitted against each other in several rounds of play-offs until there is only one book left, the winner. There are several judges, one for each "fight" so the judges only gets one chance to "shine". Should the book go on to the next round it is judged by another person. I was happy about this news but busy as we are I completely forgot about this upcoming tournament until my husband reminded me early last week. "I don't think you'll make it to the next round" he said. Then he explained what he was talking about. Apparently my book had been pitted against a book called Fancy desserts, written by the award-winning pastry chef of Del Posto restaurant in New York (I've been there twice – it's great). My husband had done some research and said it seemed that the other book was very much a rock'n roll kind of book with clever, even funny writing and some very impressive recipes. So why wouldn't my book stand a chance against that, I'm pretty happy about it, the recipes are good, tried and tested, I might not be an award-winning chef but surely I had a chance? My husband didn't seem to think so, this book was in his opinion tailor-made for the judge in question, a certain Adam Roberts who has a food blog of his own, where clever & funny writing (if not quite rock'n roll) takes center stage and trumps aesthetics every time. Still, even if all was lost (which was fine with me – I'm not that competitive when it comes to cookbook tournaments) I was looking forward to a well written review, criticism or praise of one's work can be helpful or at least interesting.
Well, I didn't quite get my review, and Oddur was right, I did lose, badly. Instead of a well written, thoughtful review Mr. Roberts chose to have a bit of fun (as he has every right to) and do a little comic strip with images from the books, complete with blurbs of his "writing". Not a bad idea although a slightly cheap&easy way to be funny. Anyone can be made to look foolish in a comic strip like that, imagine a photograph with Dalai Lama and Barack Obama. Above Dalai Lama is a blurb saying "I want to talk about world peace and human rights". Above Obama's head is a blurb saying "I want a burger". I think you get the picture – simple little tricks often work best … and anyone can do it. My book apparently "rubs" Mr. Roberts the wrong way and he obsesses about what he conceives to be the main theme of the book, namely to illustrate that my life is better than anyone else's. He does add, as an afterthought that "the food did look pretty fabulous". In my mind food is the most important aspect of a cookbook, the recipes the very purpose of it (which is why a very large majority of the photographs in the book are food pictures). If the recipes work, if the food is fabulous the book is good. And I stand wholeheartedly behind my recipes, they are tried, tested and I love them all. Since the publication of A Kitchen in France we've had amazing reviews and incredible press and I couldn't be more proud or thankful for each and every kind word that anyone has said or written about my book. I am even thankful for Mr. Roberts saying that the food looks fabulous. And I did find his "review" a little funny. A little. But there is another part of me that can't help feeling that his approach is a bit shallow (which is fine since this is all in good fun and it's good not to take things seriously, especially not cookbooks) but also a tad, dare I say it … sexist. Women don't want to be judged on their looks, and neither do cookbooks. I said in my latest post that I was old-fashioned – just not that old-fashioned. If I was writing a review of Mr. Robert's blog I don't think he would take kindly to me mostly ignoring his writing, his recipes and focusing on his looks, his way of dressing, his photography or the design of his blog. Do we judge a theater performance by the décor of the room or the comfort of the seats? They can be important factors but never more so than the play itself. Mr. Roberts does go on to test two recipes from my book, one he likes the other less so. It's worth mentioning that he makes a real mess of the second one, a classic couscous that's truly good, not least if you actually follow the instructions in the book.
All this said, the review neither spoilt my mood or my morning, I simply shrugged my shoulders and thought to myself, in American style, "Whatever". I may even have laughed a little. I'm still interested in the tournament and am hoping to see a few books that I like do well. I'm rooting for Dorie and Buvette (two spectacular cookbooks) and not offended at all, being a part of this selection has been an enjoyable if bizarre experience. Food52 – I'm still flattered.
I am a big believer in the "don't explain, don't complain philosophy" so I had absolutely no intention of writing about this. I want this blog to be light and airy, like a well made soufflé, yet with enough substance to brighten my readers' day and "make them better, happier cooks". But serious and cynical has never really been on the menu. Then add the fact that I'm married to an Icelandic man and it seems to me that a 1000 years later the old Viking philosophy of "if they chop off one of my legs I'll stand on the other" is still very much alive in Iceland – I've never met a nation less prone to complaining. That sort of thinking has rubbed off on me.
Then Monday morning happened. Thanks to modern technology I can see where the traffic to my blog is coming from. On Monday a small number of people seemed to be streaming from a blog called www.thetipsybaker.com From time to time, and when I have time I like to see why they are coming, what or who has sent readers my way. This time, the blogger seemed to be defending me from Adam Roberts's review, but only half-defending me.
"Maybe she's oblivious" was the title". And the answer is I'm not. I am proud to promote France, family life, thoughtful seasonal cooking, living life at a slower pace, spending time with our children. I am happy to promote the idea of carefully prepared meals, shared with friends and family as opposed to rushed meals in front of a computer screen. And my husband takes nice pictures, god bless him. But none of that means that I believe my life is better than anyone else's, in fact I am certain it's not. Who says a family in the countryside is happier than two married guys, living together in a city, perhaps with children or pets, sharing their lives and maybe even cooking fabulous meals. I don't think there is a rule that you need children to be happy, although having had them I couldn't imagine life without them. I don't think you need to live in France, drink wine, eat meat to be happy. An old man living with his cat, eating sardines every day, looking out his window could be happy … or miserable, depending on the man and the circumstances. Happiness, quality of life cannot be the packaging of someone's life – I think none of us really have the recipe for happiness but we know many of the ingredients and I'm trying to use them as well as I can.
And glamour isn't happiness either. Talking again about Mr. Roberts (now it's me who's being obsessive) he has a partner who is also the director of a very good, critically acclaimed movie. And nothing is more glamorous than the movies. So are Mr. Roberts and his partner happier, is their life better than that of some other couple whose only brush with Hollywood is watching movies together in bed?
I mentioned earlier that I'm not big on complaining, I like to accentuate the positive, just being alive is something to be thankful for, and being alive with great food … But I'm happy to dispel the rumours that I'm wealthy. I'm not, money has never been my target. If it was I would have become a banker or even quicker, married one. We do have a beautiful old house but for anyone who thinks that is prove of wealth I urge them to check out real estate prices in Médoc as opposed to say, Brooklyn? And while I'm in confessional mood, and considering I'm breaking my cardinal rule of speaking out against criticism on the internet (which is usually a terrible idea) I might as well address another lingering issue. It's the "curious infatuation with the low table". I've been lucky enough since starting this blog and the other activities it has spurned to have mostly intelligent, thoughtful, engaging comments and questions. But every now and then someone, somewhere, questions my choice of working tables. It seems they are just too low. But here's the thing. They are my tables, that I actually use. And I'm tall. We filmed two seasons for Canal+ and a number of people commented on the tables. My tables. So they brought in a new table for the third season. It was higher, more comfortable perhaps. But it wasn't real. When I cook at home, when we make blog posts, we use the things that are already there. Strange as it is sometimes reality looks weird or fake and sometimes when things are faked to look real, they feel all wrong. So I say, let's keep it real – always, even when reality looks strange.
Too cut it short I am not oblivious to the fact that certain aspects of my life and work might encourage irritation in some people, and with increased exposure comes increased responsibility to be … less irritating. That is absolutely fine with me, I have no problem with that, by putting myself out there, with my blog, my book I'm not expecting unquestioned approval but rather a healthy debate on cooking and life choices. But I am who I am, we live how we live, for better or for worse and I harbor no illusions that my life is extra special or better than that of most other people. I have lived in a city, in a small apartment which gradually got filled with kids and dogs and I was happy there too, most of the time anyway. Mr. Roberts, life is not a competition and I have no way of knowing if mine is better than yours but I'm pretty sure my food is 🙂
p.s. I haven't really had the time to properly check out Mr. Roberts's blog but I intend to … with an open mind. And while I'm still on the subject of Mr. Roberts I want to add that his "panel" looks simply adorable, what a collection of handsome men – guys I want YOUR life. We are opening a little seasonal restaurant here in Médoc this summer and I'd love to invite you for a feast. You might not come, but if you guys do, I promise to dazzle you – like they say in the movies, I'll show you how it's done!
Cauliflower and egg salad
1 head of cauliflower, separated into florets
3 eggs, hard-boiled and chopped finely
2 tablespoons unsalted butter
1 & 1/2 tablespoon plain flour
Grated zest of 1 organic lemon
A few sprigs of parsley, leaves picked and chopped finely
2 tablespoons butter
Salt & black pepper
8 slices of smoked duck magret (you can replace this by slices of fried pancetta or bacon)
For the lemon vinaigrette:
4 tbsp extra-virgin olive oil
2 tablespoons lemon juice
1 crushed garlic clove
1 teaspoon Dijon Mustard or whole-grain mustard
A pinch of salt & black pepper
Combine all the ingredients together in a small bowl and whisk until blended. Set aside.
Place the eggs in a single layer at the bottom of a saucepan. Cover with at least an inch or two of cold water and a 1/2 teaspoon of salt (a little trick to make eggs easier to peel). Heat the pot on high heat and bring the water to a full boil. Turn off the heat, cover and leave the eggs in the water for 12 minutes (add 5 to 7 minutes longer for larger eggs). Drain the saucepan and run cold water over the eggs. Peel the eggs and chop them finely. Set aside.
Put the butter in a saucepan and turn the heat to medium. Cook, swirling the pan occasionally, until the butter starts foaming. At this point cook the cauliflower and sprinkle the flour on top. When the cauliflower starts to be slightly golden, about a minute, set aside.
Place the cauliflower on a serving dish. Scatter the chopped eggs on top, sprinkle the parsley leaves. Place the duck magret on top, and season with the vinaigrette and a dash of salt & pepper. Grate the lemon zest all over.
Tournedos à la Russe (Tournedos Russian style)
4 tournedos/tenderloin beef fillets
4 pancakes
3 red peppers/ poivrons rouges, deseeded and cut into thin slices
1/4 teaspoon ground nutmeg
1 & 1/2 glass of red wine
80ml/ 1/3 cup beef stock
2 tablespoons unsalted butter
2 tablespoons extra-virgin olive oil
Salt & freshly ground black pepper
For the crêpes/pancakes: (serves 4, about 20 crêpes)
125g/1 cup all-purpose flour, sifted
60g/1/3 cup granulated sugar
2 eggs
1/2 pinch of fine sea salt
350 ml/1 & 1/2 cup whole milk
1 tablespoons unsalted butter, melted, plus more for cooking
Mix the crêpe batter. In a large bowl, combine the flour, sugar, and salt and make a well in the center. Add the eggs one by one to the well, whisking them into the dry ingredients. Whisk in the milk, followed by the melted butter. The batter should be smooth, without any lumps. Cover and let rest at room temperature for 2 hours or, preferably, overnight in the refrigerator (remove from the refrigerator 1 hour before cooking).
Cook the crêpes. Heat a lightly buttered crêpe pan or small sauté pan over medium-high heat. Scoop about 2 tablespoons of batter into the pan, rotating the pan so it spreads evenly, and cook until just set and lightly browned, about 45 seconds. Flip and cook on the other side until lightly golden, about 5 seconds. Transfer the crêpe to a plate and cook the remaining batter, stacking the crêpes as you make them.
Deseed the red peppers and slice them into thin strips. Heat olive oil in a frying pan and sauté the red peppers strips until cooked and soft, about 6 to 8 minutes.
Melt the butter in a large frying pan over a medium-high heat. Add the tournedos/tenderloin and fry for about a minute or 2 on each side, or a few minutes more if you refer medium or until cooked to your liking. Season with salt & pepper. Set aside & keep warm.
Keep the juices in the pan, add the red wine and the beef stock. Reduce to half and season with salt & pepper, add the nutmeg. Add a tablespoon of butter, stir until melted and when the sauce starts to thicken, about 2 minutes, set aside.
Wrap a pancake around each tournedos fillet. Place the red pepper strips on top, creating a small rose figure. Drizzle with red wine sauce.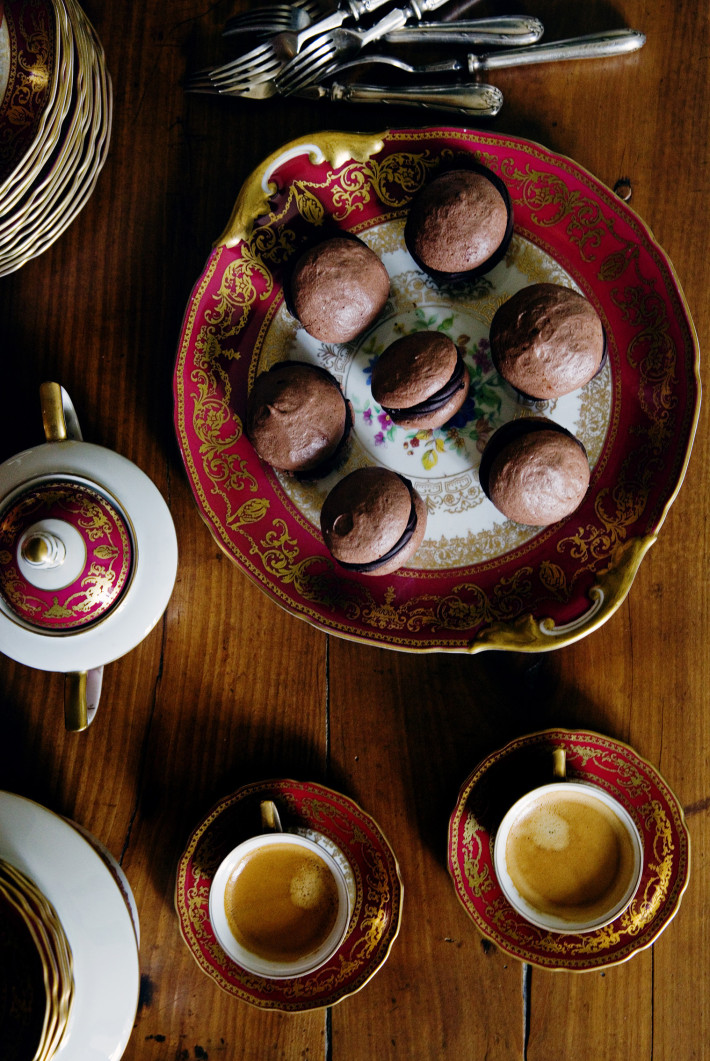 Cocoa Crunch Meringue Sandwiches, recipe from Dorie Greenspan's 'Baking Chez Moi'
For the meringues
1/4 cup/ 30 g confectioners' sugar
2 tablespoons unsweetened cocoa powder
2 large egg whites, at room temperature
2 tablespoons sugar
1/4 cup/ 30 grams almonds or walnuts, lightly toasted, cooled and very finely chopped
For the filling
2 ounces /57 grams bittersweet or semisweet chocolate, finely chopped
1/4 cup/ 60 ml heavy cream
1 tablespoon unsalted butter
These fall somewhere between traditional meringues and dacquoise, the French meringue made with nut flour. Instead of nut flour, I opt for chopped toasted nuts and end up with a cocoa meringue that's airy (as it should be) and crunchy (as I always want it to be). While you can certainly make these in the classic kiss shape so popular for meringues, I prefer to pipe the batter into dainty disks and then sandwich them together with a thick layer of creamy dark chocolate ganache. Done this way, the sandwiches might remind you of another member of the meringue family: macarons. If you're having a party, you can double (or even triple) this recipe.
To make the meringues: Center a rack in the oven and preheat the oven to 250 degrees F. Trace sixteen 2-inch circles on a piece of parchment paper, flip the paper over and use it to line a baking sheet. It will be your template for piping meringues. Sift the confectioners' sugar and cocoa together onto a sheet of parchment or wax paper.
Pour the egg whites into the bowl of a stand mixer fitted with the whis attachment, or into a large bowl in which you can use a hand mixer. Add the salt and beat the whites on medium speed until they start to turn opaque. Still beating, gradually add the sugar, then turn up the mixer speed to medium high and beat until the whites hold stiff, glossy peaks.
Add the cocoa mixture to the meringue and, with a flexible spatula, start to fold the cocoa mixture into the meringue. When you've got half of the mixture in, add the nuts and continue to fold until everything is well incorporated. Take a peek at what's happening at the bottom of the bowl; if something's lurking there, fold it in.
Spoon half of the batter into a pastry bag fitted with a ½ – inch tip (or use a zipper-lock bag ; seal it and then cut a ½ inch-wide opening from one of the corners) and pipe out circles onto the template. Start in the middle of a circle and work your way out in a spiral. Alternatively, you can spoon out mounds of meringue.
Bake for 90 minutes without opening the oven door. Turn off the oven and let the meringues stay for another hour with the door closed.
Transfer the baking sheet to a cooling rack. When you're ready to make the sandwiches, peel the paper away from the meringues.
To make the filling:
Put the chocolate in a heatproof bowl. Bring the cream and butter to a boil in a microwave oven or on the stovetop. Pour the hot cream over the chocolate and wait for 30 seconds, then, using a whisk, begin stirring the ingredients together, starting at the center of the bowl. Stir in gradually widening concentric circles until you have a dark, smooth, glossy ganache. Set the ganache aside to firm at room temperature – a process that could take 1 hour or more – or quick-chill it: Put the bowl in a larger bowl filled with ice cubes and water and stir the ganache until it firms enough to spread or pipe, 5 to 10 minutes. (You can also refrigerate the ganache for about 15 minutes ; just make sure you check on it so it doesn't get too firm.)
To assemble the sandwiches: Fit a small pastry bag with an open or closed star tip (or use a snipped zipper-lock bag) and fill it with the ganache. Turn half of the meringues bottom side up and pipe a rosette or spiral of ganache on each. Top each with another meringue, bottom side down, and twist until the ganache spread and glues the sandwich together. (You can also spoon the ganache onto the meringues.) Refrigerate until firm.