Last Sunday I got an early morning phone call from my neighbor Bernadette. She asked if I could pop by her house before lunch, she didn't say why. I was excited, I wondered if the tomatoes she had promised me were ready and ripe. Recently I baked her a box full of canelés, her favorite, and when I brought them over she mentioned that some of the glorious tomatoes growing in her garden had my name on them. On the other hand I thought it was a bit early in the summer for her tomatoes. What else could it be? A thought crept into my head, was it possible that Gertrud, our liver colored (I like to call her chocolate brown, much more appealing) German Pointer had broken into Bernadette's garden and had a bit too much fun, bringing with her a Fox Terrier or two? I sincerely hoped not. I quickly threw on some clothes and headed for Bernadette's. Like a good Médocain I brought a nice bottle of wine, to say sorry if it was needed, to say thank you if it was appropriate. I turned out that the tomatoes were still green, that there had been no dog mischief. When I arrived at Bernadette's house I saw a stack of gigantic beautiful courgettes on her garden table and she insisted I take them all. "We have so many, and there are only two of us" she said. I promised to return soon with more canelés, "to go with the wine" she said as I walked away carrying as many courgettes as my arms could hold.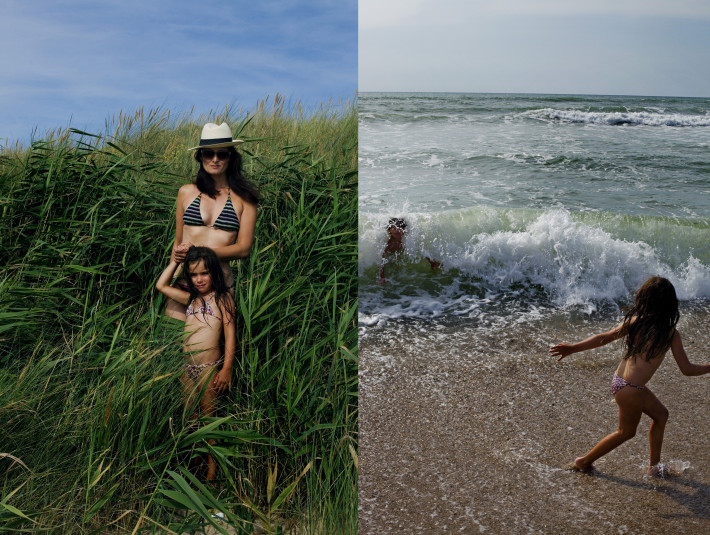 On the way to Bernadette's I had been thinking of tomato recipes but on the way home there were only courgettes on my mind. She had suggested that I fill some of them with sausage meat and cheese, 'c'est si bon les courgettes farçies, Mimi!'. Luckily there was still time to pass by the butcher's to get the necessary sausages. I guess I couldn't completely forget about tomatoes so I found a way of including them. I baked the courgettes on a bed of homemade tomato sauce.
That was our lunch and everybody loved it. The roast chicken I had been preparing for lunch was simply promoted to dinner which meant we had lots of time to kill. And what better to do with an unexpectedly free afternoon in August, when the weather is playing along with our wishes, than go to the beach. And what a lovely beach we have.
Those enormous courgettes have had place of honor on my kitchen table for the last few days, some slowly disappeared into a ratatouille others into omelettes. One of the most satisfying dishes that I've made out of them in the last few days is a last-minute improvised pasta dish that I threw together when my wolflike family had just returned from the beach and could not wait very long to be nourished. I love to use mint in everything these days, its one of the key tastes of summer for me. We are having so much luck with our mint growing this year, the more we use the more it grows. I feel like I am sending the kids out three times a day to get more mint for my cooking, sometimes they even turn up in the kitchen with mint or thyme just in case.
In this house, being prepared means having herbs in your pocket.
Courgettes farçies (stuffed zucchini)
(serves 4-6)
Preheat oven 180°C/ 350 F
2 very large zucchini, or 4 medium-sized ones
8 good-quality sausages – approx 450 g/ 1 pound
½ bunch of parsley, chopped finely
1 onion, sliced finely
2 garlic cloves, sliced finely
¼ tsp épices Rabelais (alternatively all spice)
110 g/ ¾ cup fresh breadcrumbs
150 g/1 & 1/2 cup Emmental or parmesan cheese, grated
1 tsp thyme
1 tbsp mustard
Salt & black pepper
For the sauce:
3 tbsp olive oil
3 garlic cloves
1 can plum tomatoes, crushed (you can use your hands or a potato/vegetable masher
2 tbsp red wine
Sprigs of thyme, a bay leaf and a dash of oregano
Coarse salt and black pepper
Make the sauce:
In a saucepan, heat 3 tbsp of olive oil and cook 3 garlic cloves (finely sliced). Add one can of crushed plum tomatoes, a few sprigs of thyme, a bay leaf, red wine and a dash of oregano. Season with salt and black pepper. Cover with parchment paper and simmer on a low heat for one hour.
For the filling:
Trim zucchini and slice lengthwise. If they are very large (like mine in the photos), divide them into three to four logs. Scoop out the seeds, leaving approx. 1 cm zucchini flesh inside.
In another bowl, squeeze out the sausage meat. Mix sausage meat with spices, garlic, mustard, thyme, half the breadcrumbs, onion, and parsley. Season with coarse salt & black pepper. Stuff the zucchini with the mixture.
Pour the sauce in a baking dish, place stuffed zucchini on top and sprinkle with grated cheese and breadcrumbs.
Bake in the preheated oven for 45-50 minutes 180°C /350 F until meat is cooked and melted cheese is golden.
Zucchini pasta
(serves 4)
2 large zucchini, grated coarsely
2 garlic cloves, slice finely
3 tbsp crème fraîche
1 tbsp butter
500 g pasta of your choice
¼ tsp piment d'espellette (optional)
125 g pine nuts
Olive oil
A handful of chopped basil and mint leaves
Salt & pepper for seasoning
50 g /1/2 cup parmesan cheese, grated
Put the pine nuts in a dry skillet and cook on a medium heat for 3 minutes until golden, stirring constantly. Set aside to cool and chop them coarsely.
Trim zucchini and grate coarsely (I use a food processor/ medium grater disc) – they look like short match sticks. Alternatively you can chop by hand.
Cook pasta in a large pot of salted boiling water. Reserve ½ cup cooking liquid.
Heat olive oil in a large frying pan, add zucchini. Toss for a few minutes, then add garlic, piment d'espellette, crème fraîche, and cooking liquid, continue to stir for 2-3 minutes. Add 1 tbsp butter, season with salt and pepper, mix gently.
Add pasta to the zucchini pan. Add grated parmesan cheese, chopped mint and basil and chopped pine nuts. Toss everything together.
Just before serving, sprinkle with more parmesan cheese, chopped mint and basil. Serve immediately.