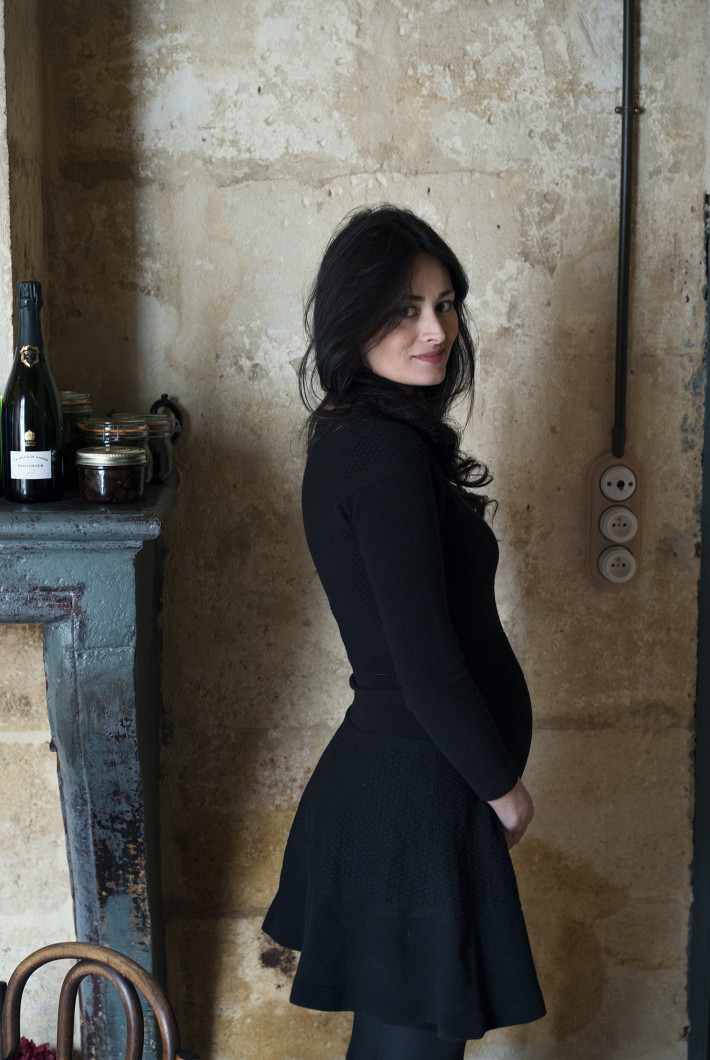 Sometime last summer I (hopefully – delusionally) announced that from autumn onwards we would launch a redesigned blog with more frequent posts and contributions from my friends. What happened instead was that posts became less frequent, there was no redesign. It's not a cancellation though, it is simply a postponement. When I started this blog some years ago I had no idea what I wanted to do with it, it happened naturally and this winter, equally naturally, posts have been few and far between. It's natural because we've been so busy, with the workshops but mainly with my new baby, my second cookbook. It took all my best efforts to finish it in time, and when I say in time I mean so late that it would have been too late if my wonderful editor, Rica, hadn't moved the finish line for me so that I could make it.
I believe that, with very few exceptions, things need to change and grow to blossom. This blog has not changed since the beginning but the question facing me this January is how do we keep what's good, build on it, make posts more frequent, keep the purity and simplicity, yet make it more accessible and easy to find older recipes. I want to keep this blog exactly how it is. I also want to change it and make it better. I've decided to do both. I'm terrible with deadlines but let's try aim for late February and if not I hope you will be as understanding as my editor and allow me to move the finish line.
In a few days I'll publish a traditional post with a delicious winter menu but I thought it would be fun to look back at 2015, remember a few things we did, share them with you and, in some cases, think about how they will affect 2016. Oddur, my husband, is my partner in all I do, the blog would be very different without him – I like to say we are a dragon with two heads. So I asked him to contribute to this post and we decided to each talk about five things. 5 songs each on a 10 album LP. When I was growing up in Hong Kong my mother loved John Lennon, especially Double Fantasy which was on practically every day. Sometimes she'd have a tiny glass of sherry, flick through French magazines (I am named after one of those – Marie-France) and reminisce about her days as a young girl in France and a young woman in London. She loves living in Hong Kong, she loves the culture, the climate, the massages, the food. But Europe always made her fell a little nostalgic and sometimes Double Fantasy (oddly enough) was the soundtrack to that nostalgia.
Just like on Double Fantasy we'll take turns, Oddur will go first, then I etc. I picked being John Lennon first so Oddur is Yoko …
The Year of the dog 
Hi it's Yoko here. Happy new year! Sometime soon we'll leave the year of the goat behind and enter the year of the monkey. But not in this house, in this house every year is the year of the dog. And one dog in particular, my dog Humfri. He's not the smartest dog and he's a little grumpy in the morning. He sleeps on a little ugly bed in the corner of our bedroom and growls when the kids come near him. He likes to sleep in. There was that incident when he tried to assassinate a Pomeranian in Orvieto. And that incident when he peed on the leg of the diner next to us. He causes all sorts of problems, like most dogs do, but he does it with panache.
He fills my eye every day with his beauty and my heart with his distinctively odd character.
Here's to another year together my friend.
The Restaurant 
I'm back (Mimi – sorry John)
The first time I visited 1 rue de Loudenne I had a book in my head. I called my editor, Rica Allannic, and spilled my beans. "That sounds wonderful but shouldn't we finish book number 1 first?" was her response. I have a tendency to get ahead of myself. The idea of opening a restaurant in my home, my dream restaurant, and writing a book about it sounded a little crazy but mainly great and I can't believe that we actually did it. The restaurant was magic, I'm so excited about the new book and can't wait to share it with all of you.
It will be called  "French Country Cooking" and is out this year in October published by Clarkson Potter like my previous book. I was very happy with the last book and though you shouldn't have favorites when it comes to your children I think I like this one even more, so many hours went into it, so much love and laughter.
It's the best feeling in the world, to finish something so meaningful and wait for it to come to life.
The Miles
Talking about distinctively odd characters, remembering last year wouldn't be possible without mentioning Miles. He was the cook (sorry Miles, chef) who assisted Mimi in the kitchen. His effort were worthy of a reality show (one that I would actually watch) and took the phrase "full or surprises" to a new level. I had many good moments with him in the "boucherie", where we shared wine and stories. He knew how to win my heart. He said "we are just like Captain Aubrey and Dr. Maturin" me being the Master and Commander. Miles was rather well read and any man who refers to me as Master and Commander is off to a rather fantastic start. You can read more about Miles in my wife's upcoming book but I thought I'd share a pairing that Miles introduced to me and I named after him.
I don't love sweet potatoes but I like the idea of them. I love the smell and aroma of Cognac but seldom drink it. Miles told me he eats a baked sweet potato every day to improve his eyesight and always with Cognac. Considering the source that may be an exaggeration but I find this a most interesting pairing. Very sophisticated and primal at once. A mélange straight out of a Hemingway short story.
I encourage you to try this at home, just prick the potato with a fork and place it in a hot oven for 30 minutes, then slash open and fill with butter. The Cognac should be smooth.
Mouhalabieh – Orange Blossom and pistachio flan
Even if this is not a conventional post I thought I must share at least one recipe (the Miles isn't really a recipe is it?) When I lived in Paris we sometimes ordered Lebanese takeaway and when we did I always included Mouhalabieh in the order. Two for me was the standard. It's a wonderful flan like pudding drenched with orange flower syrup and topped with pistachios. I hadn't thought about this little friendly dish for a very long time until I had a sudden craving late last fall and I've made it countless times since. While this is a great dessert I love to make it any time of the day and have it when I feel like it.
Let's call it winter indulgence.
Orange blossom flan with pistachios/ Mouhalabieh
For 5 to 6 servings
For the flan
400 ml/ 1 & 1/2 cup + 3 tablespoons milk
30 g/1/4 cup cornstarch
40 g/ 3 tablespoons sugar (more or less to your taste)
2 tablespoon orange flower water
A handful of roasted pistachios and chopped
For the syrup
2 tablespoons water
2 tablespoon honey
2 tablespoons orange blossom flower
1 tablespoon granulated sugar
In a medium-sized saucepan, heat the milk and sugar on a medium heat and add the sifted cornstarch. Whisk until the mixture thickens and coats the back on a spoon, about 5 minutes. At this point take the pan off the heat and whisk in the orange blossom water.
Pour the mixture into ramekins and leave to cool completely. Refrigerate for at least 2 hours before serving.
Prepare the syrup:
In a small saucepan, heat the water, honey, sugar on a medium heat. When the mixture starts to thicken slightly about 3 minutes, add the orange blossom water.
Take off the heat and leave to cool completely.
Preheat the oven to 180°C/350°F. Spread the pistachios on a baking tray and roast for 3 to 5 minutes. Remove from the oven and leave to cool. Chop the pistachios coarsely and reserve.
To serve.
Drizzle the syrup on the flans and scatter the pistachios on top. Serve immediately.
The Vehicle
2015 is the year I finally got a Land Rover. Old, huge, beautiful and monstrous. I've never been a particular car buff and though I appreciate beautiful cars there was always something else more interesting or important to get. This car landed in my lap and what a happy coincidence that was. Driving through the muddy roads of Médoc, unstoppable, is better than I thought. Driving all the way to Rome, with no music or air condition in sweltering heat is not as bad as I thought. Not in a Land Rover.
The Workshop Playlist
Last year we hosted so many wonderful workshops, met incredible people from all over the world. Such a mixed group of all sorts of people who love food and wine … and music.
We have a good selection of music we tend to listen to a lot but some of the guests also pitched in. It takes a lot to make it into the Manger workshop playlist, like somebody said "this is good stuff"
Billie Holiday – You go to my head
Chet Baker – Let's get lost sessions
Barbara – Dis, quand reviendras-tu?
Marilyn Monroe – Let's make love
Dan Penn (Theresa Ghoulson) Power of love
Swamp Dogg (Dewey Nicks) Synthetic world
Sam Cooke (Hannah Barry) You send me
Dave Brubeck – Audrey
Robbie Williams – If I only had a brain
Charles Trenet – La Mer
Julie London – Fly me to the moon
Jacques Dutronc – J'aime les filles
Rosemary Clooney – Botch-a-Me
and the song no one likes but my husband
Richard Hawley – Tonight the streets are ours
Here is the link to our playlist on Spotify.
The wines of the year
It was a very good year. For the wine being made in the vineyards (look out for 2015) and for me personally, because of the wine I drank. It' almost impossible to pick favorites but let me try.
Early in the year we had the pleasure of dining with Mr. Jean-Michel Cazes, the owner of Château Lynch Bages. He brought the wine. 1991 Domaine de Chevalier (white), 1985 Mouton Rothschild, 1962 Château Montrose, 1959 Château Lynch-Bages and the 1952 Lynch-Bages, made by his grandfather. The '59 was my favorite, maybe, of the whole year.
Other extremely memorable sips were the ´89 and ´99 of Margaux, a privilege made possible by the WSJ who sent me to Château Margaux for a story, yet I ended up in a lavish lunch with Madame Mentzelopoulos, the owner, and Paul Pontallier the winemaker.
An epic wine day was had in autumn at Château Ducru-Beaucaillou where we had the pleasure of tasting many of the best vintages of the last 20 years. That's the night Mimi said to the person next to her that she actually preferred Italian wine. It was a joke of course, a bold funny one. There weren't too many laughs though.
All this is probably fairly meaningless, these wines are hard to get your hands on and if you can you may have to sell your house.
So here is the list of the best wines I had at home in 2015, for what it's worth, many are not given but they're all great and in most cases they should be obtainable.
1. Château Lynch-Bages 1996 
I fell in love with this vintage years ago and the romance just won't end. A very Médoc, Médoc. The 2000 is supposed to be better and maybe it will catch up but this is my coup de coeur.
2. Château Ducru-Beaucaillou 2003
A hot year and a beautiful wine, more or less ready to drink now.
3. Château Calon Ségur 2005 
A little young but really opening up this year, smooth and lovely, pleases everyone. You should try to get at least two bottles, drink one now, keep the other one.
4. Château Léoville las Cases 2004
We had this bottle with Mimi's editor, Rica, and her husband Cyrille, a French master chef when they visited us in the summer. We served it with an andouille sausage from Brittany and though the pairing might not have worked it did. Everything works with this wine.
5. Château Rauzan-Ségla 1989
This bottle was the star of one of the workshops – remember Jerry?
6. Château Tour Haut Caussan 2003 (Cuvee Mathis)
Our dear friend Fabien, aka the best man in Médoc, makes this wine and in 2003 he put all his efforts into it as it saw the birth of his only son Mathis. He says it's the best he's made and I agree.
7. I Sodi di San Niccolo 2010. 
For the sake of variety we have to include at least one Italian wine. My wife picked the bottle on a trip to Milano, it has a little bird on it. Judging a wine by its label never felt so right. This was also the year I really got into the Sagrantino grape from Umbria and the year of a decent amount of Barolo's from … and Brunello's from Biondi Santi. In Rome I had the 2007 Rosso di Montalcino from Biondi Santi, it tasted great … but then I was in Rome.
8. Clos du Marquis 1996 (Magnum)
Another long-standing favorite. I got my hands on a small stash of Magnums – it's all gone
now.
Honorable mentions go to the (often more affordable) 2011 Clos Manou (our neighbors), the 2010 Château Haut Marbuzet, the 2010 Croix de Beaucaillou (a real crowd pleaser).
Whites we couldn't get enough of were the Blanc de Lynch-Bages, the Cygne Blanc from Château Fonréaud, Elise from Château le Pey (our friends) and Caillou Blanc from Château Talbot. Château Smith Haut Lafitte was much-loved but we had it less simply because of the price.
The travel discovery and the buttoned up shirt
Last year I went an incredible 6 times to Italy. First with Mimi in May when she was invited to cook at a food festival but after that mainly to Umbria. I knew Umbria a little from before, we have decent knowledge of Toscana and Marche, the neighboring regions but apart from a few fleeting visits to Perugia, Umbria remained a mystery. I have CN Traveler to thank, they sent me on many missions there throughout the year and most of them ended up as road trips. The first assignment was to shoot Brunello Cucinelli and "his" Umbria. My boys came with me, Thorir & Hudson and of course Humfri and his son Dick (this was before they fell out). Hudson took the trip very seriously and always wore a blue blazer and a white shirt buttoned up to the top. I always told him to unbutton claiming he looked too much like a Belgian fashion designer. That's how it went. He buttoned up, I made him button down etc. Then we met Brunello who passed his judgement. "Buttoning up in this case is more chic". Hudson won, I lost.
The food in Umbria is incredible, the landscape so hilly and unusual and part of it reminds me of Iceland but with much better weather and olive trees. My favorite subject of last year was one of Brunello's tailors, a humble, quiet, elegant man who wore his clothes with enormous dignity.
Many times this year we were happy in Umbria.
The cherry on the cake – 8 is my lucky number
So it's up to me to finish this account. With a baby boy. He'll arrive in late June and though he has more to do with this year his roots were planted in the fall of 2015. I have said time and again on this blog that we were done. I have confidently stated that the baby shop was closed for good. It seems it wasn't and I couldn't be happier. Four girls in a row would have been wonderful  and even a little funny but I have to admit that a baby boy right now feels right.
It will be the last beautiful chapter in a book that is turning out much longer than I ever expected. It's also the second time in two years that I'm expecting a child in early summer and a book in late fall. It's double fantasy. Twice.
I wish you all a happy and exciting new year and thank you once again for coming to my obscure little corner of the world, whether it's in person or simply by visiting this blog.
Mimi xx