Before summer came and went, or more precisely before August came and went there was talk in the little village of a restaurant about to open in the big house in the center of town. Nobody really knew what it would be like or if it was even true, the annoying little dogs that were guarding the gates certainly didn't seem very inviting. There was no sign over the door saying restaurant or bistrot or even table d'hotes. No backdoor deliveries, no menu on the side of the house. From time to time the habitants of St Yzans would catch a glimpse of that Russian guy working in the only room of the house that touches the street, the one that used to be Madame Ladra's washroom. One day an old man saw them summon the crew doing demolition work across the street to help them carry a very heavy old butcher's table into the former washroom and after that another table with eight legs. That one, a young boy remarked, they had put in the big dining room that opens up into the garden. Mainly the villagers just didn't really think about it or care. Whatever it was it wasn't going to affect their lives much. And it certainly wouldn't be worse than those damn dogs.
Then people started coming to the big house, sometimes at lunchtime, sometimes for dinner. They were usually very smartly dressed (some of them too smartly was the general opinion in the town), seemed to have come from afar and they always stayed for hours. Hours! An old lady who has lived in the village all her life even commented. « They must be coming for both lunch and dinner », then she shook her head, not in disapproval but more as to imply that this was all very much out of the local norm. Due to the very unusual acoustics in the crossroads right in front of the house, music could be heard into the streets, even when it was just in the most polite and gentle form of Chet Baker or Billie Holiday. One night they seemed to be hosting a private dinner and everybody sang Happy Birthday. That's when the local buffoon had enough and made his tri-annual call to the police who ended up reprimanding him more than those at the root of the singing. It should be noted that the other two times he has called the boys in blue in the past year it was because, firstly a pair of 10-year-old boys threatened to shoot him with a stick and secondly because he needed the phone number of a very good exorcist and thought the police might have it.
Other than that, as far as anyone could tell, nothing interesting happened in August and by early September the restaurant that never really was, seemed to wind down as quietly as it had begun. One day the nicely dressed people stopped arriving as suddenly as they had started. In the eyes of the village it was as if the restaurant had never been.
It was all very … St Yzans style.
Yes August came and went without as much as a blog post. I think it's the first time I've ever let a calendar month pass by without posting anything. But I won't make it a habit. The blog may have been quiet, the house may have looked quiet from the outside (well apart from all that birthday singing). Inside things were anything but. I guess the best way to describe it would to say that No 1 rue de Loudenne was like a volcano before it erupts. Nobody notices anything from the outside but all of a sudden the animals start running away. Never have I seen so many dirty dishes, such clammer of silverware. Did you know that the average person in our restaurant used 6 – 7 glasses (none of which goes into the dishwasher) and sometimes much more especially when my husband made them try various wines in differently shaped glasses. Tablecloths were drying on the roof minutes before they were supposed to be used, Miles, the NYC "dude" who assisted me in the kitchen only arrived at midnight on opening night. April, my friend and head waiter disappeared to Barcelona when things heated up (she came back though – thanks girlfriend). My editor Rica took orders, waited tables and organized the place to a fault two days in a row (in impeccable style I might add) while her French chef husband guest starred in the kitchen. Matt, our soon to be next door neighbor, man about town and style editor in NYC did a Negroni night. Some people brought dogs, many brought their kids and one couple even brought a baby bed (not a crib – a BED). I could give you statistics, like bottles of Champagne emptied, duck legs eaten, meringues baked. But instead I'm going to give you the one statistic that means the most to me.
Out of all the guests that came to our restaurant about half asked to come again, even if that meant, in some cases, driving for an hour or much more. Almost every service had a repeat client and there were many more that we simply couldn't accomodate.
To all of you, thanks for coming, we enjoyed every minute and we'll be happy to see you all again … someday. Whatever happens this little pop-up restaurant that we poured our hearts into will live forever in our hearts and in the book I am currently finishing.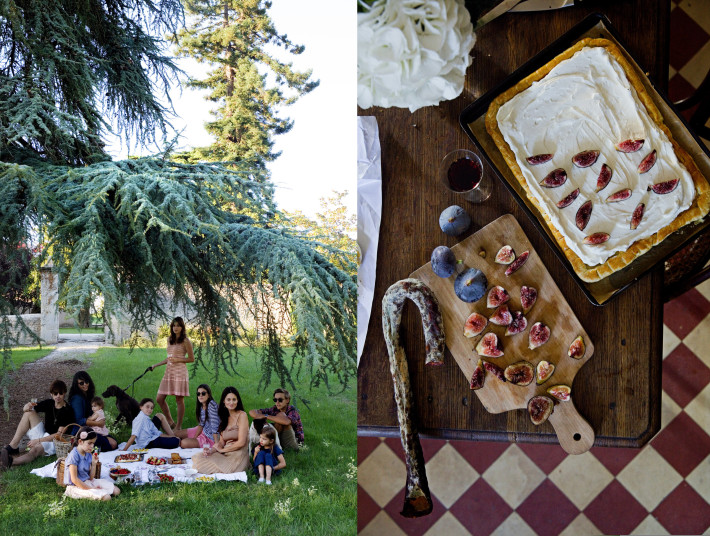 In the midst of all this excitement we somehow managed to find time and escape St Yzans, albeit only down the road to a nearby Château where we found lodgings for all the wonderful people working with us. Allegra, the assistant I couldn't live without and of course April and Miles, the odd couple whose cohabitation of a sparsely decorated flat could have made for a reality show that would make any good producer cry.
It was just a little picnic, a break in the middle of everything and there isn't so much to say about it other than perhaps we needed to get out of the house for a few hours.
Summer means a lot of things to me, peaches and plums, and plum tomatoes. Trips to the beach, sunbathing on the roof, cold rosé and hot summer nights. But I always have one eye on autumn, the mushrooms and pumpkins, apples and pears and those irresistible fall colors. I do, however, always forget that in-between stage, the one that has no other name than late summer or early autumn (although it is neither). It's the season of the fig. It's still warm but not quite as warm, sometimes it's a little windy but not in a bad way, it's more like a gentle breeze on a movie set that serves no other purpose than to rearrange the clouds so they look better in photos. We still have most of the summer fruits, we are still tanned, we're already getting a sneak peek or autumn's offerings.
Right now may be the best time of the year.
ps: We still have a few places available here and there for the fall workshops. This is due to people either cancelling or asking me to transfer their booking to 2016 due to personal circumstances.
Right now we have spots available in the October 4-day workshop, the November 3 and 4-day workshops and the December workshop. These are only very few places so if you are interested I encourage you to act fast 🙂
Here is a link to the post on this blog explaining the workshops.
Looking forward to hearing from you!
Garlic and shallots deviled eggs
(for 10-12 eggs)
10-12 hard-boiled eggs, peeled
2 shallots, minced
1 clove garlic, minced
80 ml/ 1/3 cup mayonnaise
1 tablespoon crème fraîche
A dash of piment d'Espellette
A few sprigs of fresh chives, finely chopped
Salt & freshly ground black pepper
When the eggs have cooled, cut each egg in half and scoop out the yolk. Place the hard yolks in a bowl and mash them. Set aside. Add the mayonnaise, crème fraîche, salt and pepper. Mix well until all the ingredients are combined and creamy.
Heat olive oil in a small pan and cook the minced garlic and shallots on a medium heat for 2 minutes. Set aside until cool and add to egg mixture.
Spoon the filling into each halved egg white (you can also use a pastry bag if you wish). Sprinkle each halved egg with piment d'Espellette and fresh chives.
Chorizo and black olives cake
250 g/ 2 cups plain flour, sifted
1 teaspoon baking powder
1 pinch of salt
3 eggs
90 ml/ 6 tablespoons olive oil
4 tablespoons crème fraîche
150g/ 1 cup chorizo sausage, diced
100 g/ 2/3 cup pitted black olives
150 g/ 3/4 cup Comté cheese, diced
2 tablespoons sun-dried tomatoes, chopped coarsely
1 tablespoon chopped oregano leaves
Preheat oven to 180°C/ 350°F.
In a large bowl, mix sifted flour, salt and baking powder. Break the eggs and place them in the center, pour the olive oil and mix well. Gradually add the crème fraîche, chorizo, olives, cheese, herbs and chopped sun-dried tomatoes.
Pour the batter in a large buttered loaf pan.
Bake 45 min at 180 ° C/ 350°F until golden and cooked through.
Honey and orange blossom water fresh fig tart
230 g/ 8 ounces puff pastry
10 fresh figs, quartered
80 ml/ 1/3 cup mascarpone cream
250 ml/ 1 cup heavy cream
1 vanilla pod, split lengthwise and seeds scraped
5 tablespoons orange blossom water
4-5 tablespoons honey + extra to drizzle
40 g/ 1/4 cup slivered almonds, slightly roasted
Roll out the pastry in a rectangular shape and fold the borders. Place on a parchment paper covered baking tray. Prick the pastry with a fork.
Place a piece of parchment paper and cover with baking beans. Blind bake for 15 minutes until pastry is golden and puffy. Leave to cool.
In a large mixing bowl, combine the mascarpone cream, heavy cream, vanilla beans and honey. When the mixture starts to thickens, add the orange blossom water. Whisk until the cream is thick and dense, as well as easy to spread.
When the pastry is cool, spread the cream all over and arrange the quartered figs. Scatter the roasted slivered almonds and drizzle honey all over.