Where do I begin
It all started with an email from Rica Allannic, my editor. I received it on an otherwise unremarkable Tuesday afternoon in early February. It was short and to the point. Would I be up for a quick trip to New York city, to go over my manuscript and do some publicity for my upcoming book – before my bump got to big to travel? A better question might have been "Is anyone ever not up for a trip to New York, with or without a bump?" Wheels were set in motion, my in-laws were lined up as dog- and babysitters, a strategy was outlined to keep them all from harm in our absence. Moments later, it seemed, I was standing in the very impressive lobby of Random House on Broadway. Every single person at Clarkson Potter is an absolute delight and I must admit it was a kick for me to be discussing my book with a view of New York at my feet. The next few days were a blur of yellow cabs that drive far too fast (I am one of those pregnant ladies who's not good in cars – read nausea) and more impressive lobbies, freezing cold but warm receptions, great food and sadly for me, hardly any wine. I loved every minute. It was one of those trips where everything happens so fast that when you come home you have to ask yourself  "did that actually happen?"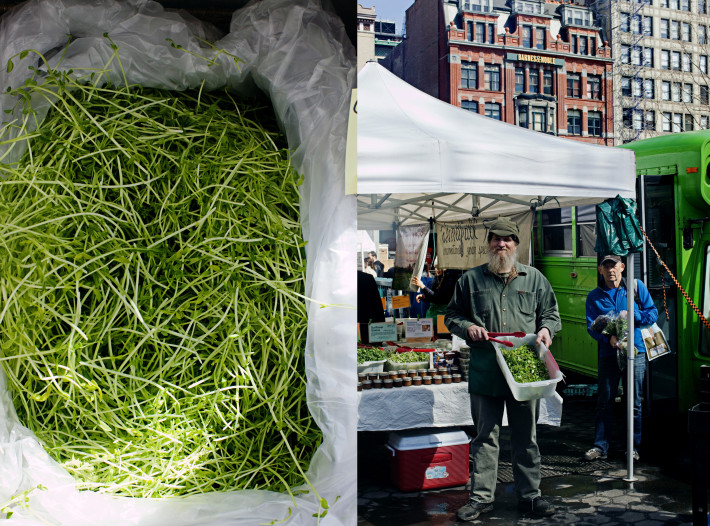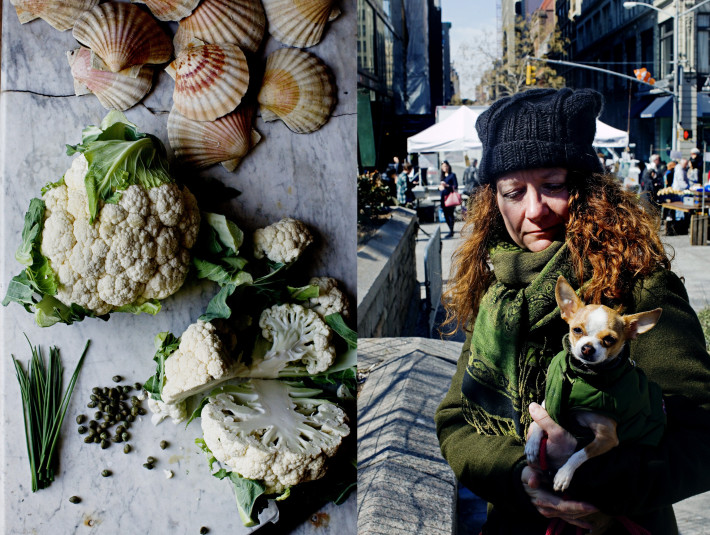 Virtual friends, old friends and mixed fortunes
On our first night in NY we had an old friend for dinner (I just had to write that). We met up at a local Chinese place, had noodles and dim sum and, this being America, three fortune cookies to round up the meal. My friend Thao and I got some words of "wisdom" but Oddur got this: "Everyone agrees that you are the best". We left our fortunes on the table, he put his carefully in the breast pocket of his coat. Talking of "everyone" there were so many people I wanted to meet. Since I started Manger I've made great friends from the "monde" of blogs and social networks, modern-day pen pals. Some have already visited us in the French countryside, others have remained virtual friends. But I feel like I know them all intimately, I know what they had for lunch and what it looked like, what toys their kids like to play with … and in some cases what their beds look like after they've slept in them (or what they want people to believe that their beds look like when they've slept in them). In this brave new world we all have a curated version of one another, now was the time to get real.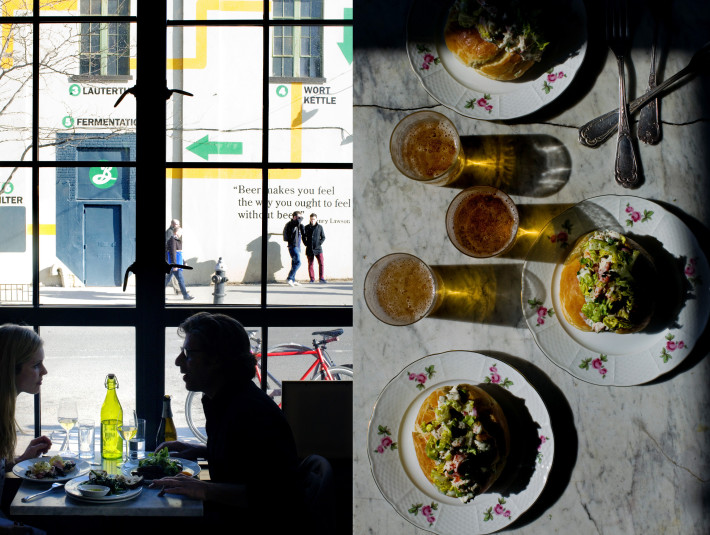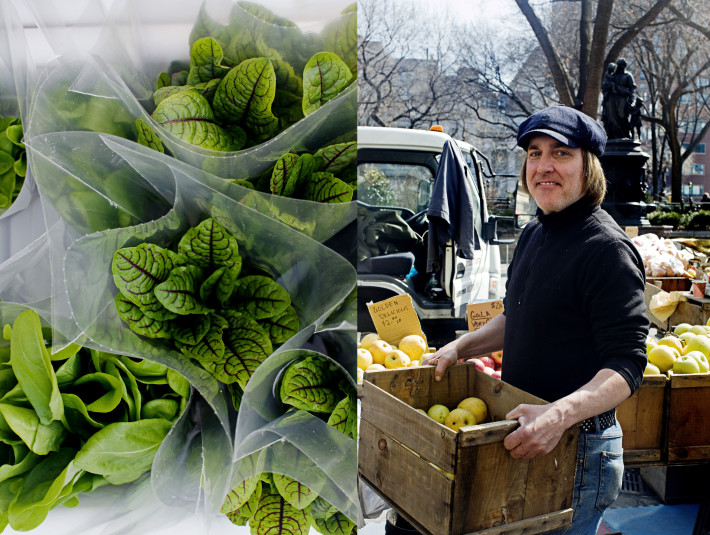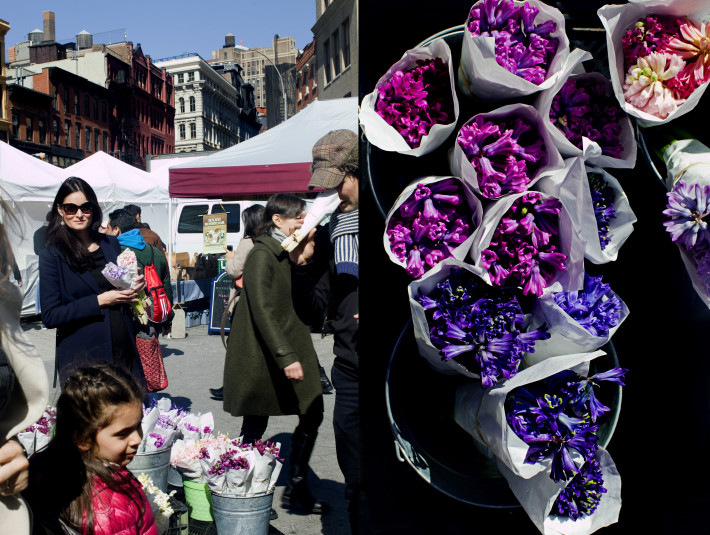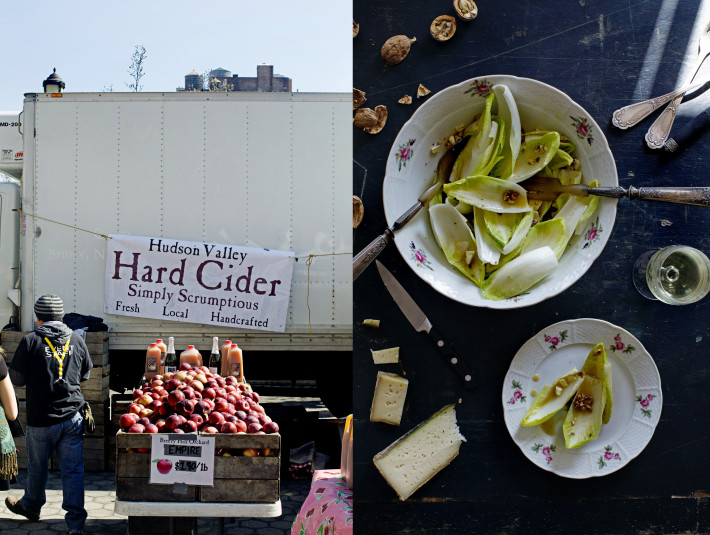 The trip in Food
We had a shortlist of around 10 restaurants we wanted to try but most of them didn't manage the final cut. Largely our food-fate was not in our own hands. And frankly, this trip, all roads led to Estela. We had five dinners in NY, one at our editor's house and four in restaurants. Two of those were at Estela. It seems that all of NY, or at least our friends, are in love with Estela and these are folks that know what they're talking about when it comes to restaurants. It's easy to understand why they like it. It's a bar-restaurant with amazing cocktails (I'm told), simple decor and simply delicious food that's fit for sharing. I liked everything I had there and loved some of it. I loved the beef tartare with sunchoke (that I wasn't supposed to have), the ricotta dumplings, the mussels and salted cod. Oddur loved the chicken hearts. Over lunch, earlier in the week he had mentioned Estela to Pam, the publisher of Clarkson Potter and she confessed that she goes to Estela often and even makes a version of their endive salad at home. Needless to say I managed to get the recipe from her. Another lovely dinner was at a brand new place called Navy, whose chef, Camille, is another virtual acquaintance. A beautiful, small, dimly lit place with lovely food and a hat wearing English chap called Neil who makes great coffee. Which brings me to our finest meal of the trip, unsurprisingly the one meal we had at someone's house. Aren't those always the best? We did have high hopes, Rica, a top editor that specializes in cookbooks (who used to work in the kitchen of Daniel Boulud – that's how she met her beau) and her French chef husband, Cyrille. Who wouldn't want to be invited to a dinner like that. Like the hosts themselves the dinner was a French-American mix. Local ingredients with a French touch. American wine and cheeses – and without wanting to sound prejudice (wine&cheese are of course national treasures of France) – both surprisingly good, awesome in fact. We had Nantucket scallops with a cauliflower mash, so good that I just had to share the recipe with you. Mr and Mrs didn't quite see eye to eye on the gremolata and for a while it looked like there would be two versions – in the end they agreed on what tasted heavenly to me. I knew American beef could be good, just not this good. Dinner with friends, that's what life is about.
The French Connection
Being a mixed breed myself I am always fascinated by the merging of cultures. There is an old ad from the French fashion designer Pierre Cardin that used to run in GQ. I don't remember it myself but Oddur brought it to my attention recently, the copy reads: "The mystique of France, the energy of America". On one hand kind of silly and stereotypical, on the other, a little bit true. Towards the end of our meal at Rica's they mentioned that they were all planning to get up early (and not to get rid of us I might add). Cyrille, a chef, painter and keen triathlete had some exercising to do as did Rica. Adrian, their adorable son (and my future son-in-law) swims five times a week. I may be generalizing but there is a sense of keenness and enthusiasm about Americans that I love but it has it's downsides too. Every restaurant is either empty or has a queue, a restaurant that was hot on my last visit can now be found in oblivion. Luckily many of the new restaurants are as good or better than the ones they replaced – New Yorkers know how to come up with good concepts. France has long provided the recipes, but America had their own ideas. While American chefs have imported French knowledge and technique, interned at French bakeries to learn the tricks of the trade, it's the American sense of enterprise that has helped young French chefs break out of the old hierarchies and establish their own successful bistros. A great example of this sort of cooperation of cultures is Spring in Paris, a wildly successful restaurant run by an American in Paris. So I guess Pierre Cardin was right. One of the best things I tasted in NY was a cheese called "Triple Cream", a French tasting cheese with and American "selling" name.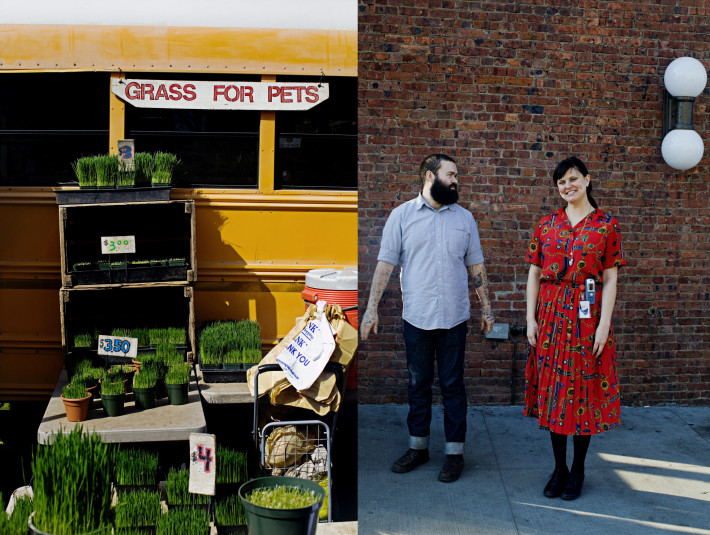 Regrets I have a few
I have never had a disappointing trip to NY and neither a trip that left me completely fulfilled. There is just too much to do, no list can be completed, there are always boxes left to tick. No matter how many food trucks I try, lobster rolls I sample or cronuts I eat there is always a dozen things left on my list, people I didn't meet or restaurants I missed out on. This trip my biggest regret was not to have time to visit my beloved Spotted pig, a source of so many happy moments in the past. 6 days in NY seem like an eternity and an instant at the same time. So little time, so much to do. After our final bumpy yellow cab ride to the airport (one that I almost didn't survive), Oddur reached for his wallet and when he pulled it out his cherished Chinese fortune flew out of his pocket and into the evening air. I guess it was only valid for a week.
Back home
When you sit at a table outside, surrounded by children and puppies, when the temperature is 30 degrees higher (celsius) than it was in NY and the sun caresses your bare feet, you want nothing more. But then after a while, you want a lobster roll. My way. That's how I am, the stove beats the chair in the sun and soon I had buns in the oven. I've been revisiting NY with my mouth since we came back, we've had those heavenly scallops three times, a lobster roll twice. The pears are inspired from pancakes that Jenny, our book designer, ordered at Reynard in Brooklyn. I once read a piece from Jeffrey Steingarten on Chinese restaurants in America, at the end of it he said "Now all I have are memories". Well, I have the memories … but I also have my own versions.
ps: Thank you everyone for the great tips you gave me for my NYC trip – they are all in my notebook for next trip!
Estela style Endive salad (courtesy of Pam Krauss) 
(serves 4)
3 heads of endive, separated into leaves
Juice of 1 orange
3 anchovies
50 g/ 1/3 cup roasted walnuts, coarsely chopped
1 & 1/2 tablespoons champagne vinegar (I used Xérès vinegar)
3 to 4 tablespoons extra-virgin olive oil
50 g/ 1/3 cup Ubriaco Rosso cheese (I used Tomme de Savoie cheese), cut into tiny cubes
Coarse sea-salt and freshly ground black pepper
Mash up the anchovies in a salad bowl with a little salt and pepper. Squeeze the orange and pour juice into the bowl. Add the vinegar, then the olive and mix well. Finally, add the walnuts and cheese. Scatter the endive leaves on top. Serve immediately.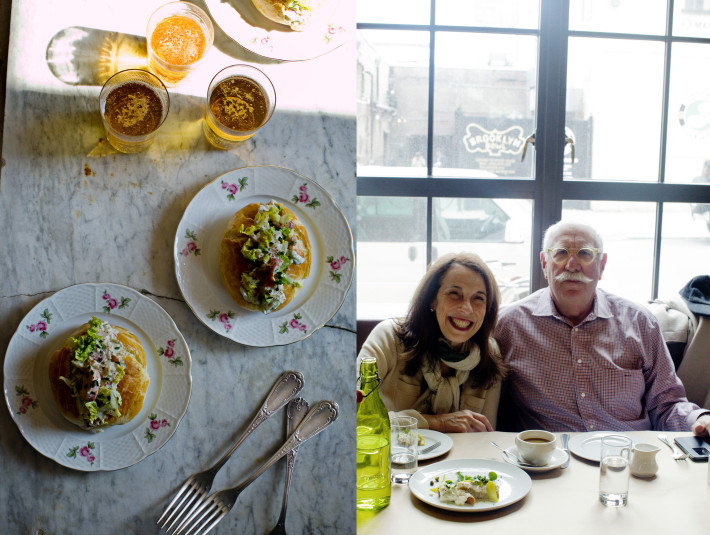 Lobster roll
Who doesn't crave a great lobster roll? This is my Frenchie version, light and tangy, creamy with crème fraîche, and I decided not to add mayonnaise. Instead of a classic bread bun, I made pain au lait (milk bread), a typical bun sold at the boulangerie, very popular with my kids especially for the 'goûter' (after school) tea time hour – they love to add a small bar of black chocolate inside. It's a rich bun that I love serving with savory fillings too.
(serves 6)
Flesh of 2 cooked lobsters (approximately 450g/ 1 pound each)
1 small head of sucrine lettuce (or iceberg)
A large handful of small pink radishes, sliced finely
A few sprigs of fresh chives, chopped finely
A bun of fresh chervil, coarsely chopped
2 tablespoons Dijon mustard
2 tablespoons extra-virgin olive oil
2 branches of celery, finely chopped
1/3 cup chopped scallions
3-4 tablespoons crème fraîche (or more if you prefer!)
¼ teaspoon piment d'espelette
Bring a large pot of salted boiling water, add ½ cup white wine, 2 bay leaves, a few sprigs of thyme and a few black pepper corns. Cook the lobsters for approximately 15 minutes. Drain and leave to cool completely. Remove meat from lobsters.
Slice lobster flesh coarsely, place into a bowl. Gradually add all the ingredients together, except for the sucrine/iceberg lettuce and mix well. Cover and refrigerate for at least 45 minutes.
For the pain au lait buns
Note: For a slightly sweeter touch, add 2 tablespoons of granulated sugar to the dough.
300 g/ 2 & ½ cups plain flour
15 g/ ½ ounce fresh yeast
3 & 1/2 tablespoons heavy cream (crème liquide entière)
120 ml/ ½ cup milk, lukewarm
80 g/ 1/3 cup butter, softened at room temperature
1 teaspoon fine salt
1 egg yolk mixed with 1 teaspoon milk for the eggwash
In a large bowl, mix the yeast with a few tablespoons of the milk and leave for a few minutes until completely dissolved.
Gradually add the flour, sugar, salt, cream and butter. Start kneading in the bowl and transfer to a floured surface. Knead for at least 10 minutes, until the dough is soft. Shape into a large ball and place in the bowl. Cover with a clean kitchen cloth and place in a warm environment to rise for 1 hour and 30 minutes. Shape into small oval balls, approximately the size of a large lemon, and place on a parchment paper lined baking tray. Leave at least 4 cm/ 1.5 inches space in-between. Cover with a kitchen cloth and leave to rise for another 30 minutes.
Preheat the oven to 180°C/ 350 F. Brush the rolls with the eggwash and bake for 15 to 20 minutes, until well risen and golden brown.
To serve
Half-slice the buns, place sucrine lettuce in the bun and top with the lobster filling. Scatter with more lettuce and sprinkle a dash of piment d'espellette.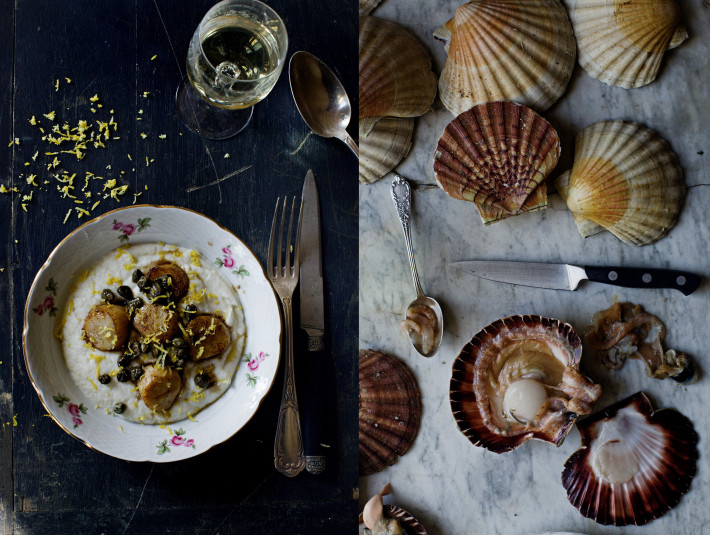 Pan-seared scallops & capers with cauliflower mash à la Cyrille & Rica
(serves 4)
1 head of cauliflower, broken into pieces
3 tablespoons salted butter (for the cauliflower)
Zest of 1 organic lemon
80 ml/ 1/3 cup chicken stock
2 tablespoons brined capers
Fresh large scallops (about 5 to 6 per person)
3 tablespoons unsalted butter
Coarse sea-salt and freshly ground black pepper
The original recipe called for peeled kumquats, but as I couldn't find any I used lemon zest instead.
For the cauliflower mash
Break the cauliflower into florets. Blanch the florets in a pot of salted boiling water for approximately 10 minutes, or until cauliflower is fork tender. Try not to overcook as the mash will be too gelatinous. Drain and purée with a stick blender, adding a few tablespoons of butter (adapt to your taste) and season accordingly. Set aside.
For the scallops
Rinse the scallops and pat dry with paper towels. Season with salt and pepper. Heat butter (cut into cubes) in a large sauté pan on a high heat. When the butter starts to foam, stir constantly until the color turns light brown. This is when your 'beurre noisette' is ready for cooking. Add the scallops and sauté about for 3 minutes, until cooked. Add the capers in the end and set aside.
In a small pan, heat 80 ml/ 1/3 cup chicken stock and bring to a soft boil. Add 2 tablespoons white wine, season with salt and pepper. Reduce on a high heat for 3 minutes, lower heat and add 2 tablespoons butter. Sprinkle with ¾ of the lemon zest.
To serve
Place the cauliflower purée in a serving dish, place the scallops with the capers along with a generous drizzle of the sauce. Drizzle with the chicken gravy and sprinkle with the lemon zest. Season with salt and pepper. Serve immediately.
Pecan and pears with maple syrup whipped cream
(Serves 6)
A very simple dessert bursting with all the right flavors. This recipe is inspired from the delicious pear and pecan pancakes my friend Jenny ordered at Reynard at the Wythe hotel in Brooklyn. I ordered a pastrami sandwich, but couldn't help picking on her plate. So please do not hesitate to serve pancakes with this recipe!
180 ml/ ¾ cup heavy cream
230 gr/ 8 ounces mascarpone
160 ml/ 2/3 cup maple syrup
4 to 5 William pears, sliced
2-3 tablespoons butter
1 tablespoon granulated sugar
50 g/ 1/3 cup pecan nuts
Place the pecan nuts on a parchment paper lined baking tray, and sprinkle the sugar all over. Roast for 3-4 minutes on the grill/ broiler setting, or until nuts are slightly golden. Set aside to cool.
Whisk the heavy cream until thick, add the mascarpone and continue to whisk until thick, slowly adding the maple syrup.
Slice the pear and melt the butter in a large sauté pan on a medium heat. Sauté pears until golden on both sides.
Place the pears on a serving plate, scatter pecan nuts on top and serve with maple cream.