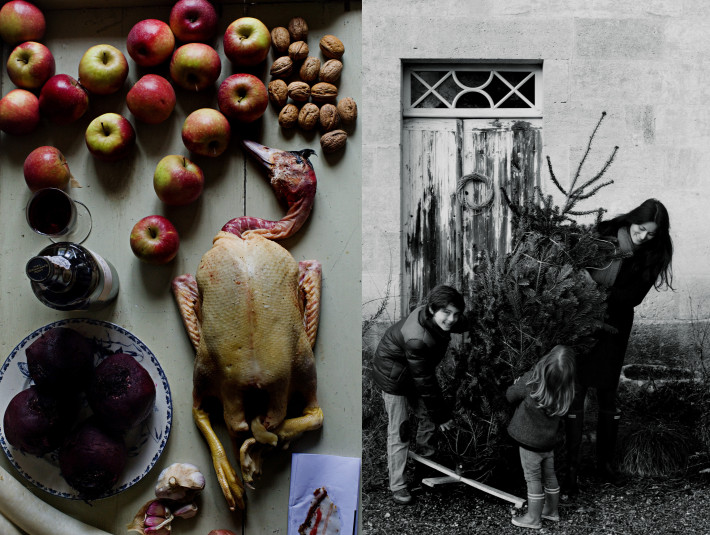 When is the right moment to buy a Christmas tree? Too early and the needles will have fallen by New Year's, too late and you miss out on what could have been an extra week of pine scented Christmas beauty. Over the years I've figured that around the 10th is a good moment but my impatient heart stole a march on reason last week when the kids had a day off school, a Friday no less. That was it for me, a day off in December simply calls for getting a tree and cooking up a festive lunch.
So we got in the car and went on a tree hunt, or more precisely of places that sell trees. Louise dressed up for the occasion, as she always does, the rest of us came as we were. On our way to finding "our tree" we drove past countless other trees, some with leaves, some bare, a few evergreen Magnolias and my favorite, the ones that have lost their own leaves but are draped in the most beautiful green ivy dresses that would put any couturier to shame. The most curious trees this time of year, I find, are the pomegranate and khaki trees, very Tim Burton-esque, with no leaves and curious delicious fruit that just hang their defying, it seems, the laws of nature. The leaves are long gone but the fruit linger on.
In our family we have different philosophies on how to choose a tree. The kids, predictably want the biggest one (they won last year), Oddur, my husband, wants the first decent tree we'll find, as if chance had chosen it for us. I am the difficult one, I want the tree that speaks to me, that gives me a sign, the one that says "Let me be your tree". Our first stop was the closest one, a little "jardinerie" near our home. Last year we arrived one minute too late and they slammed the door in our faces. But we are not holding grudges. After a while of examining the trees, my husband had found his, my kids were asking if there was anything "much bigger". The man asked "what, do you live in a palace?" The kids had an empty look on their faces as if whether the tree would fit into the house or let alone the car had nothing to do with anything.
I was getting restless, ready to leave and continue my search when a cat (I am very fond of cats) appeared from under a tree. And not just any cat. A black, three-legged cat with a red ribbon around his neck. He gave me a funny look and just sat there for a while as if to say "do I have to spell it out for you lady – don't you see this is the best tree, and I'm a specialist." So that was our tree. And the cat was right, it's a nice, well-balanced, perfectly sized tree. As for the cat he appeared at the jardinerie some 6 years ago with 3 legs and an open heart. Now he's an expert on all things green.
Back home we gave the speech we always give. "Don't be too excited, be careful with the ornaments, they are very precious". Then the kids get too excited and one of the ornaments breaks. Then they freeze, look at their father with fear in the faces. But because it's a special occasion we will let them off lightly and so it goes. Same thing every year, it really has become a Christmas ritual. This year it was a guitar that broke. I can just imagine all the ornaments in the attic, in the moments before we take them out, giving each other a solemn look and thinking "This is our moment guys" – but also "who is it going to be this year"? We keep all the broken ones though, they are quite lovely in their imperfection and I suppose souvenirs of good times.
We listened to Christmas music, we had port and cheese, a fabulous beetroot salad with the crispiest Bigorre black pig slithers, a roast duck with a very satisfying stuffing and a heavenly port gravy, wine from Pessac. And to finish this sumptuous lunch, a heavenly vanilla crème de marrons (vanilla chestnut cream) mousse.
A good time was had by all.
Beetroot & Jerusalem artichoke salad
serves 4
2 large beetroot peeled & cooked
6 small Jerusalem artichokes (topinambours), peeled
½ head of red cabbage
2 shallots, sliced
A few sprigs of chives, finely chopped
4 slices Bigorre black pig bacon, finely sliced (alternatively, if you can't find this variety, choose a good-quality bacon)
Olive oil
Balsamic vinegar
Coarse sea-salt & black pepper
Slice the beetroot (peeled and cooked) into ¼ inch slices.
Place the 'Bigorre' bacon slices on a frying pan, pre-heated on a medium heat. Cook on both sides until crispy and golden. Set aside on kitchen paper to absorb excess fat.
Pre-cook the Jerusalem artichokes in salted boiling water and 1 teaspoon of bicarbonate of soda (a little trick I learnt to ease digestion) for 10 minutes. Drain and set aside. Slice into rondelles.
Slice the red cabbage finely and place in a bowl. Season with salt and pepper and drizzle with 1 tablespoon of olive oil and a 2-3 teaspoons of balsamic vinegar. Set aside.
Heat 1 tablespoon of olive oil in a pan on a medium heat. Cook shallots for 3 to 4 minutes, add the Jerusalem artichoke slices and cook for a few minutes on each side until slightly golden. You want to keep them al dente. Set aside.
In the same pan, add a little bit of olive oil and gently cook the beetroot slices on both sides for 2 minutes.
Place the beetroot slices on a plate, add the Jerusalem artichokes and shallots. Scatter the red cabbage all over, sprinkle finely chopped chives and place the slice of fried 'Noir de Bigorre' bacon (or a lovely piece of bacon) on top. Just before serving, drizzle a few drops of olive oil and balsamic vinegar. Season to taste.
Roast duck with apples & port gravy
serves 4
1 duck, approximately 4.5 pounds/ 2 kg
1 kg/ 2.2 pounds approx. apples, peeled, cored and halved
120 ml/ ½ cup port
400 ml chicken stock
3 tablespoons unsalted butter
A few sprigs if thyme
Coarse sea-salt and freshly ground black pepper
25 g/ 2 ½ tablespoons plain flour
Olive oil
For the stuffing:
2 apples, peeled and cubed
A handful of chopped walnuts
1 onion, sliced finely
1 clove garlic, sliced finely
2 tablespoons port
Preheat the oven to 350°F/ 180°C.
Rub the duck with coarse sea-salt and freshly ground black pepper, as well as inside the duck's cavity.
Prepare the stuffing:
Peel and slice two apples into cubes. Slice the onions, garlic and coarsely chop the walnuts. Heat 1 tablespoon of olive oil and 1 tablespoon of butter in a frying pan on a medium heat, cook the onions for 3 minutes, add the apples, garlic and walnuts and continue to cook for 3-4 minutes. Season with salt & pepper. Add 2 tablespoons of port, reduce for 2 minutes and set aside to cool for 5 minutes.
Insert the stuffing in the duck's cavity, place the duck in a roasting pan, drizzle 2 tablespoons of olive oil and rub all over. Transfer to the preheated oven for about and 1 hour and 45 minutes (depending on your preferred cuisson). Turn the duck mid-way for 30 minutes, then turn it back breast and legs up and add the halved apples. Drizzle the duck and apples a few times with the juices.
Spoon all the juices, (discarding excess fat) from the roasting pan and place in a saucepan on a medium heat. Whisk in the chicken stock, flour, thyme and port and cook until sauce reduces and thickens to a thick gravy, about 20 to 25 minutes. Add 2 tablespoons butter towards the end and stir until melted.
Remove the duck from the oven and let it sit for 15 minutes before carving. Serve with the apples and port gravy.
Chestnut vanilla cream mousse with marrons glacés and chocolate
serves 6
This mousse, so heavenly, so creamy yet light, so nutty, something straight out of my childhood, a vanilla crème de marrons (vanilla chestnut cream) mousse, with chunks of marrons glacés & chocolate flakes. Since I was a child, I've had a particular love for vanilla chestnut cream. I always had a small tube in my schoolbag, and it was my sweet escape!
1 ½ gelatin sheet (approx 3 g)/ feuille de gelatine, soaked in cold water
280 g/ 10 ounces crème de marrons/ vanilla chestnut cream
200 ml/ ¾ cup + 1 tablespoon heavy cream/ crème liquide entère
4 marrons glacé/sugar-glazed chestnuts, chopped into small chunks
50 g/ 2 ounces black chocolate/ chocolate noir, coarsely grated
Soak the gelatin sheet in a bowl of cold water for a few minutes, until soft. Heat the chestnut cream in a saucepan on a low heat until the cream is warm, stirring constantly. Add the gelatin sheet until completely melted. Stir until smooth and set aside until completely cooled.
In a large glass bowl, whisk the cream (with electric whisks on a high-speed) until stiff, and gently combine the chestnut cream, lowering the speed until the mixture is blended. Cover the bowl with cling film and set aside in the refrigerator (or a cool environment) for at least 30 minutes. Just before serving, scatter the marrons glacés and chocolate flakes.