Mother's day comes twice a year
One of the privileges of having a melting pot of a family are the frequent occasions to celebrate. More meals to cook, feasts to have and, sometimes, more presents to enjoy. Like everyone else in France we celebrate the New Year but then we also have a little feast some weeks later to celebrate the Chinese New Year. My husband has introduced into our household an Icelandic tradition called "husband's" day (very clever of him) and since Louise shares a name with a saint she has a special day to celebrate in addition to her birthday. Social media has further accentuated this tendency, how is it possible not to get caught up in other people's festive moods, displayed on instagram or facebook. So I often find myself having pancakes and barbecues on the 4th of July, my husband speaks with an Irish accent (very bad one) on St Patrick's day and has a Guinness. We go ghouly on Halloween, romantic on Valentine's day and reflective and thankful for peace on Armistice day. It seems there is always something to celebrate, somewhere.
My point is, how is it possible not to get caught up in other people's joyous celebrations, how can a food lover like myself wake up to photos of roast turkeys with cranberry sauce and pecan pies, and act as if it's just another day? The answer is I can't, if someone is celebrating mother's day I will celebrate it too. Mother's day in America is ahead of ours here in France by two weeks and two whole weeks is a long time to wait. Last year around mother's day in France the black locust trees of Médoc were in full bloom but this year they went yankee on us and burst out in early May. So I had two great reasons to do something special, the ripeness of the black locust flowers and mother's day in America.
In a few days we'll have another mother's day, the French one, it's next Sunday, the 25th of May. That is also my official due date. I've never been a particularly punctual person but that would be the ultimate mother's day celebration.
The best poule-au-pot I've ever had
So I woke up on Sunday the 11th of May determined to celebrate Mother's day (the first). Black locust (Acacia faux-robinier in French) flowers would somehow be on the menu but something else, something bigger, was on my mind. Months ago our good friends Florence and Fabien Courrian were over for dinner and I served them chicken Marengo. They loved it and it sparked a conversation about chicken dishes. Florence kept raving on about her mother's poule-au-pot, the best one she'd ever had. Let's just say it planted a seed in my appetite and that seed soon grew into a full-blown craving. Weeks later we were at Flo's and Fabien's for dinner and after apéritifs and delicious starters, Florence put a huge cocotte on the middle of the table. Could it be, was I finally to have the famous poule-au-pot? She lifted the lid and out she scooped the most flavorful, spicy … langoustines. When you are being fed something delicious you couldn't possibly be disappointed, but that moment of anticipation only served to feed my determination. What had been a lingering thought was now a full-blown obsession. At the end of the meal I praised the langoustines and then kindly asked for the recipe … of the poule-au-pot!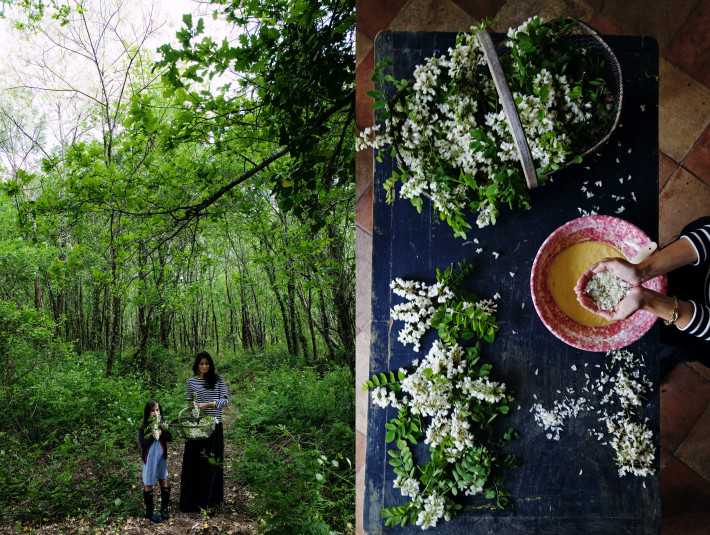 On Saturday we had bought the finest chicken (at the Vertessec farm of course), bought crates of vegetables at the market on the way home and when I awoke on Sunday all these goodies were waiting for me like parts on a mechanics table, waiting to be assembled into a masterpiece. Louise was very happy to put on a pretty dress and go look for flowers but Hudson wasn't really buying the whole mother's day thing. "I know that mother's day is not today because we are making things for you at school and they are not ready" he said. After a crustacean lunch I quickly made a stuffing for the chicken and then took Louise with me for some flower hunting. The other girls were under the weather – another good reason to make a luxurious but ultimately comforting chicken dish. It all went according to plan, flowers were picked, a cake, filled with love and petals, was baked. Hudson who was already sceptical about the mother's day thing was even more sceptical about putting all the flower petals into the dough. He asked "is there another dessert too?" Later that night the chicken came out of the pot and the look on Oddur's face said it all, this was it, a triumph – after countless other versions of poule- au-pot, in bistros, brasseries and my own kitchen, some of them bland, some of them very good – Florence's mother's version is without a doubt the best one. It's really a winter dish but I think I'll have to have it every year on Mother's day, the first one!
Should I stay or should I go
One thing you may not know about me is that I'm fairly indecisive, always weighing my options. When I'm planning a menu I change my mind right up to the moment the butcher or grocer takes my order. It's the same in restaurants, I need to order last, I listen to everybody else's order, I picture all the dishes and imagine how they will fit on my palate. Then in a split second I make up my mind. I'm having such a dilemma right now. I'm fairly sure that this will be my last pregnancy, and these are my last days with a bump. Meaning that next time I write a post I'll be back to normal. I can't wait to give birth to my little girl, I'm dying to meet her. But there is a part of me that won't mind keeping her in the oven a few days more, so she'll be well-baked and ready for life.
The good thing is that it's not really up to me, she's on some sort of timer, not one that I set, and if she wants to make a big entrance Sunday the 25th is there for the taking – to be a mother on mother's day!
p.s. Had this baby been a boy his name would have been Marcel. Marcel Reynard, the second name upon my husband's insistance as he is infatuated with all things fox. I think it's a good name and it's yours if you want it.
Poule-au-pot
This dish is such a national treasure of France that one of its kings, Henry IV, is reported to have said that even the simplest of peasants should be able to have it every Sunday. Of course this says a lot about France, a place where the quality of life is measured in food. Poule-au-pot has long been a staple in French homes and bistros, it exists in countless yet similar versions and can be, at its best, pure heaven. For me the most important thing is, as always, to start with a quality chicken and a delicious stuffing. This recipe comes from a mother of my good friend Florence who is more than an excellent cook. She slides the stuffing under the skin as well as in the cavity, giving the chicken an extra special flavor and texture. Traditionally, the broth was served as a starter with garlic croûtons, followed by the chicken, slices of stuffing and vegetables, as well as rice (boiled in the broth) and a mushroom sauce on the side. As a little bonus, I used the leftover chicken, broth and vegetables the next day to make a very comforting chicken noodle soup with angel hair pasta. The kids loved it!
(serves 6)
1 chicken, approx. 3.3 pounds/1.5 kilos
For the stuffing/farce
4 ounces/110 g stale bread
1/3 pound/ 150 g Bayonne ham
1/3 pound/ 150 g bacon
Gizzards & liver of chicken
2 shallots, finely chopped
1 garlic clove, finely sliced
2 eggs
1/3 cup/ 80 ml milk
Salt & pepper
A small bunch of parsley, leaves
Soak the bread in the milk. Squeeze out the excess milk. Chop all the ingredients finely, add the eggs and combine together in a bowl. You can also place these ingredients in a food processor and blitz for a few seconds. Season with salt and pepper.
Prepare the chicken. Gently lift the skin away from the breast meat on each side, gradually lifting as much skin as you canall over the chicken. Be extra careful not to tear the skin. Gently place stuffing, with the help of a small spoon or your fingers, under the skin. Place leftover inside the chicken's cavity and tie the chicken legs together with kitchen twine. Set aside.
For the stock
2 leeks, white part only
2 carrots, peeled
1 celery stalk
1 onion and 8 sticks clove (prick the cloves in the peeled whole onion)
3 garlic cloves, peeled
Prepare the bouillon/broth. In a large dutch-oven pot, pour 3 to 4 litres of water (enough to cover the chicken) and place the leeks, carrots, onion with the clove sticks, the bouquet garni, the garlic cloves, coarse sea-salt and black pepper. Bring to a boil and place the chicken in the broth so it's entirely covered. Cover with a lid. Depending on the size of the chicken, cook for 1h 15 minutes to 1h 30 minutes on a low heat.
For the rice
1 pound/ 450 g basmati rice
About 30 minutes before serving, pour some of the chicken broth on the rice (about 1 inch above the rice/ 2.5cm), cover with a lid and steam on a medium to low heat for about 15 to 20 minutes, or until the rice is al dente.
For the mushroom sauce
2/3 pounds/ 300 g mushrooms
1 onion, sliced finely
2 tablespoons of unsalted butter
Salt & freshly ground black pepper
For the roux sauce
6 tablespoons/ 90 g unsalted butter
¾ cup / 90 g plain flour
In a large sauté pan, sauté the mushrooms and onion on a medium to high heat with 2 tablespoons of butter for 4 to 5 minutes. Season with salt and pepper. Set the pan aside.
On a medium heat, melt 90 g/ 6 tablespoons unsalted butter in a saucepan. Add 90 g/ ¾ cup plain flour off the heat in one go, mix well with a whisk, and return to the heat (medium to low heat) until the color turns golden. Add a ladle or twoof chicken stock to thicken the sauce and mix well.
Return the mushroom pan to the heat, add the roux sauce to the mushrooms adding a little chicken stock until desired thickness. Check seasoning.
Remove the chicken from the broth and set aside to cool for 3 minutes. Cut into serving portions, remove the stuffing from the cavity and slice into rounds. Arrange chicken pieces, stuffing slices and vegetable on a serving platter. Serve with the rice and mushroom sauce on the side, and generously drizzle the chicken broth.
Black locust flower cake
12-15 locust flowers clusters, pluck the petals only
3 eggs
¾ cup/ 150 g plain sugar
1 tablespoon honey
6 tablespoons/ 90 g unsalted butter, melted
1 tsp  baking powder
1 &1/4 cup /150 g plain flour, sifted
¼ cup/ 30 g corn starch (maïzana), sifted
¼ tsp salt
1 tablespoon orange flower water
Preheat oven to 180°C/ 350 F
In a large bowl, whisk the eggs and sugar together until light and fluffy. Mix the flour, corn starch, salt and baking powder together in another bowl and add into the eggs & sugar mixture. Add the butter, orange water and honey – mix well. Fold in the flower petals and gently mix.
Butter a cake mould and pour in the batter.
Bake in the preheated oven for 30 minutes.
Leave to cool on a wire rack for 10 minutes and unmould. Decorate with flowers all over.