What a pleasant surprise I had when my heliciculturalist (snail farmers) friends Francis and Françoise dropped by to say Bonjour. After saying our belated 'happy new year', they gave me a pack of snails from their 'petit gris' farm as a gift. There was also a little bonus. A succulent recipe for a garlic and almond cream sauce to go with the snails. I couldn't wait to share this gastronomical delight. I love the surprises I get from my everyday country life. Like Françoise said, c'est un vrai délice! (it's delicious)
Just like the other day, when I had to call in a plumber who lives a few farms away. He was the kindest man, solving all the little and big problems I had around the house. What I enjoyed most during his visit was the conversation we had. As he was assembling the pipes and screws, he spoke with pride about his eldest daughter, currently studying in Bordeaux to be a pastry chef. He also loves hunting woodcock (bécasse in French), a passion for locals in Médoc. He explained to me how he cooks the bird, à la ficelle. It's a technique where the bird is simply hung by a string in front of an open fire. You place a few pieces of bread under the bird while it melts with the heat, pouring a few teaspoons of Armagnac ever so often. You can just imagine how tasty everything is, especially those drenched toasts. As soon as I get a hook in my fireplace, I will try the bécasse à la ficelle. Fine rustic cooking par excellence.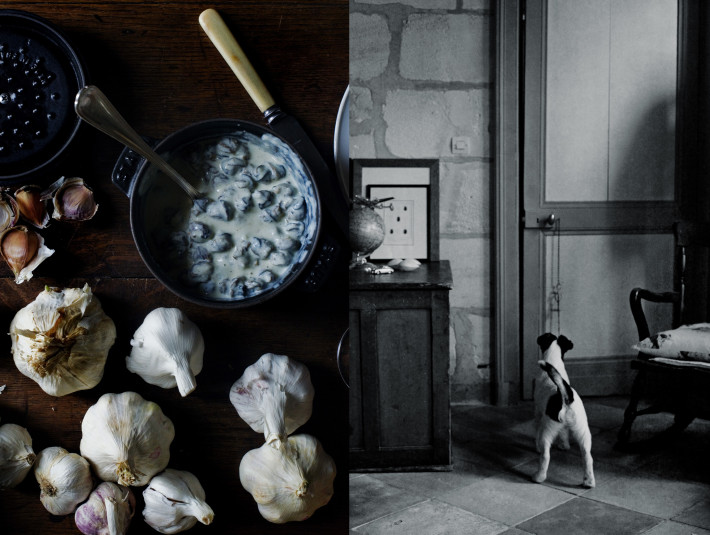 The breaking news this month is the arrival of the newest member of the family, Squiffy. Officially called Glendraterra Pie Eyed, Squiffy is a Smooth Fox Terrier puppy from England. He was bred by Jenny Thornton and Roger Bebbington who are, in our opinion, the finest breeders in the world. It's been my husband's dream for years to have a dog from their kennel so you can imagine the pride and joy in his face when he brought him back home. Boys will be boys … and some more than others. Squiffy has settled in well and proven himself to be a good sport and a bit of a humorist, his latest achievement is thrashing a book called 'How to restore and repair practically everything'. Fortunately he gets along well with the other dogs and has found a perfect playmate in Bee who is just a few weeks older. Who knows, maybe one day they will be more than just friends. At the moment, though, they are just like two silly characters from one of my favourite movies, The Fantastic Mr. Fox by Wes Anderson.
There's a new smell in the air, a mixture of earthy and minty scents. As I wander around the garden, dreaming of summer roses, sweetpeas and lavender, I greeted a hint of spring. The first buds and pink flowers popped out on a few branches, elevating me to an April state of mind. To quote William Shakespeare,' April hath put a spirit of youth in everything'.
A new puppy, a new season and fully functioning plumbing certainly calls for a good lunch. My latest menu consisted of snails with garlic and almond cream, pan-fried lamb chops (just like the ones I love in Rome at Ristorante Matricianella) with rosemary and garlic, served with baked potatoes. For dessert, a great classic we all love, fromage blanc with lavender honey and almonds. I serve them in terracotta pots I keep from St Félicien cheese (excellent cheese, and you get to keep the rustic pots!).
For those who are just not really into snails, you must at least try the garlic and almond cream recipe. I recommend it with chicken breasts, vegetables (especially potatoes) and even pasta for a side dish. It's all about the sauce!
Snails with garlic cream sauce (serves 4)
5-6 large garlic cloves
36 snails (cooked/ canned or frozen)
240 ml/ 1 cup full cream milk
254 ml/ 1 cup full cream
100 g/ 2/3 cups almonds
8 g/ 1/2 tbsp cornstarch
A small handful of parsley
Salt and black pepper
In a saucepan, bring the garlic, milk and cream to a soft boil. Add the cornstarch (maïzana), mix well. Simmer for 20 minutes. Leave to cool and mix in a food processor until smooth.
Pour boiling hot water on the almonds, leave for a couple of minutes and remove the skin on the almonds. Chop them coarsely and fry them in a pan (no oil required) until slightly golden. Set aside.
Melt 1-2 tbsp of butter in a frying pan, fry the snails for 5 minutes on a medium heat, add salt and pepper. Reheat garlic cream sauce on a very low heat.
Place the snails in a large ramequin, pour garlic cream sauce all over and serve with sprinkled almonds and chopped parsley. Serve immediately.
Lamb chops with rosemary and garlic (serves 4)
12 good-quality lamb chops
A large bunch of fresh rosemary (coarsely chopped leaves)
6 cloves of garlic (sliced finely)
20 ml/ 1 1/2 tbsp olive oil
Coarse salt & black pepper
Heat oil in large skillet over medium heat. Fry the garlic until golden and crispy, about 4-5 minutes. Set aside. Fry the rosemary for 3 minutes. Set aside. Add the lamb chops to skillet, cook approx. 3 minutes per side (or to desired 'cuisson'). Return rosemary to skillet and give the meat and herbs a good stir. Transfer to a large plate, garnish with a few fresh rosemary sprigs and sprinkle with fried garlic.
Potatoes with garlic and rosemary:
10 small potatoes (slice)
3 garlic cloves (whole)
30 ml/ 2 tbsp olive oil
1-2 sprigs of fresh rosemary (leaves picked)
Salt and pepper for seasoning
Slice potatoes, leave the skin on (4 mm thick). Place them in a roasting pan, drizzle with olive oil, coarse salt, black pepper and rosemary leaves. Add whole garlic cloves. Cook in a 210°C / 410 F preheated oven for 30 minutes. Stir potatoes halfway.
Fromage blanc with almonds and honey
Fromage blanc
Lavender honey (or any of your favourite honey – to drizzle)
Flaked almonds
Scoop a few tablespoons of fromage blanc in a small bowl. Drizzle with honey and sprinkle with flaked almonds. Serve immediately.