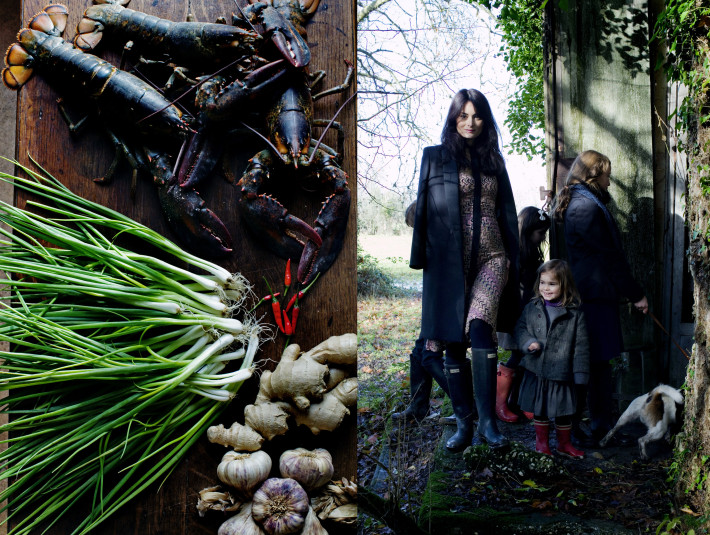 All good things must come to an end and so it was that our idyllic Christmas, complete with all our children was over. But we resisted and fought bravely right to the end, making the most of every moment until there was nothing left to say but goodbyes and love yous and till we meet again. Gunnhildur and Þórir (Icelandic spelling – did you know that our name is Thorisson because my father in law's name is Thorir (Þórir) – Icelandic people take their last name from the first name of their father) left us on Monday after two weeks of pure family bliss. 12 days spent eating and playing and trying to construct a house for some of the dogs. We all felt so happy during those precious days – if I was asked, what is happiness, I would say family. Then, of course, I would start thinking about food.
On our last day Oddur, my husband, wanted to take us all to a château in ruins we found two falls ago, one of the most beautiful, lyrical, tragic buildings I have ever seen. It has special meaning to Manger because our emblem, the wreath with the Fox Terrier and figs that is just above this text was inspired by a rosette in the ceiling of that very château. Just over a year ago I sent a photo of it to my favorite illustrator in the world, Anna Bond of Rifle Paper Co., and she came up with this marvellous logo that I somehow know will follow me for the rest of my days.
We all had boots on, except my husband who had lent his to his eldest son. The earth was particularly muddy and wet, the sun came out and for a brief moment I think the cows were trying to share the moment by dancing around us. Oddur wanted to take a picture of me with my "bump" so he was a bit demanding as he often is. We chased the fickle December light, found the room with the wreath, took some pictures, had some fun. That night we had pizza night with limitless creativity and a few dubious results and the next day it was farewell at the airport.
Our last meal was a very hurried Vietnamese phở at an Asian supermarket near the airport. It is the Thorisson way to almost miss a plane. Almost. An idea had been brewing in my head. My new year's craving was lobster and I wanted to have it with an Asian sauce. So I needed ingredients, spices, some cooking wine. I can't think of a more auspicious meal to start the new year, noodles – symbolic in Chinese culture for a long life, lobster, the most regal meal of all. All those spices and tastes. It was a perfect way to resurrect our holiday after the older kids had left. We had a beautiful lunch on the 31st. It started with a chicken broth. So purifying after all the festivities, lots of taste and goodness, so simple but yet slightly complex. The tapioca pearls, all those flavors. I can't wait to have it again. It's a bouillon very much inspired by all those visits to Le Comptoir du Relais in our Paris days. Yves Cambdeborde makes the most amazing chicken bouillon – this is my simplified version, sans foie gras, it wasn't needed this time.
It was a late lunch but we had more eating to do, a tournedos Rossini with a nice bottle of Rauzan-Ségla, a gift from my lovely literary agent, Berta Treitl, who came for a visit recently. A woman in my state can't have much, but I had a sip or two.
As I am expecting I need to think about flexible clothes. Back from the boxes in the attic are the big sweaters, the roomy dresses. I've been thinking about what to wear for the coming weeks. Going through all the clothes that might fit me in a few weeks is like going through a corridor of memories – I just never thought I'd be walking through here again.
I stumbled upon a dress that I haven't worn so much lately. It's a 10-year-old Missoni dress I wore the night I met my husband. It was how we met. He simply walked up to me and said, "Is that a Missoni dress?". Suave? Strange? Here we are several kids and thousands of dinners and lunches later.
As I am writing this I feel a bit emotional. It has been the most remarkable year. I started Manger with no particular agenda. I love to cook and being a bit isolated in the countryside I wanted to share my recipes with old friends and maybe make some new ones. This last year has seen me complete my book with a wonderful editor at Clarkson Potter. I have done a TV show with Cuisine+ here in France. Met incredible and generous people from across the world, some of them have stayed with us at our home, others have been virtual friends. I just want you all to know how grateful I am that we've met, one way or the other … Here's to the days ahead.
Chicken bouillon with tapioca pearls and mint
(adapted from Yves Camdeborde's recipes)
Serves 4
1.5 kg/ approx 3.3 pounds chicken wings
3 medium carrots, chopped
1 leek, chopped
1 onion, peeled & halved
1 celery branch, chopped
5 thin slices of fresh ginger
1 bay leaf
A sprig of thyme
4 cloves
1 cinnamon stick
1 anis star
1 tablespoon coriander seeds
1 tablespoon black pepper corns
150 g tapioca pearls
A bunch of fresh mint leaves, slice finely
Coarse sea-salt
Place the chicken wings in a large pot. Pour enough water to cover the wings, adding about 350 ml/ 1 ½ cup more . Bring to a boil, remove any scum on the surface and add all the vegetables, herbs and spices. Season with salt and cover with a lid. Simmer gently for 1h and 45 minutes. After 45 minutes, take out 6/7 chicken wings and set aside to cool. Continue to simmer the bouillon.
Heat a small saucepan and bring lightly salted water to a boil. Add the tapioca pearls and cook according to package instructions, about 15 minutes, or until the pearls are translucent. Drain pearls and set aside in a bowl of cold water to prevent them from sticking.
Drain soup through a sieve.
Slice fine slivers from the chicken wings and place them in the serving bowls. Add about a tablespoon (or two) of tapioca pearls on top. Finely dice a few carrots (optional) and scatter in bowl. Season the bouillon if necessary, and spoon a few ladles in the serving bowls. Sprinkle with mint leaves just before serving.
Lobster with e-fu noodles
(serves 4)
2 lobsters, each 450 to 680g/ 1 to 1½ pounds – chopped into approx. 8 pieces each (you can ask your fish monger to prepare this for you if you prefer) – crack the claws slightly.
8 stalks scallions, chopped
Ginger, about 20 fine thumb-sized fine slices
2 garlic cloves, finely sliced
3 tablespoons oyster sauce
2 tablespoons soy sauce
¼ teaspoon white ground pepper
1 teaspoon sugar
1 teaspoon sesame oil
1 chilli, finely sliced (or two if you like it hot!)
1 tablespoon rice wine vinegar
3 tablespoons Shaoxing wine
250 ml/ 1 cup water mixed with 2 tablespoons cornstarch
Cooking oil, for frying
Serve with 500 g/ approx 18 ounces e-fu noodles/ Yee Mien (flat Cantonese egg noodles sold at Asian supermarkets)
Prepare the noodles:
In a large pot of salted boiling water, cook the e-fu noodles/yee mien for 3 minutes, or until al dente. Drain and rinse under cold water. Set aside.
Cook the lobster:
Rinse lobster under cold running water and pat dry with kitchen towel.
Heat 3 tablespoons of oil in a large wok (or big deep skillet) on a medium heat. Add the sliced ginger and fry until fragrant, about 2 minutes. Add the garlic, half of the scallions and continue to fry for 2 minutes, stirring constantly. Increase the heat to high and add the lobster pieces, and stir until the shells starts turning bright red/orange.
Add the soy sauce, lobster sauce, wine vinegar, white pepper, chilli, sugar and continue to stir for 3 minutes. Pour the corn starch/ water mixture in the wok/skillet. Continue to stir until the sauce thickens and starts bubbling. Add the Shaoxing wine, stir and cover with a lid for 3 minutes. Lower heat to medium. Lift the lid, stirring continuously so the lobster is entirely coated with the sauce. Test to see if the lobster is cooked, then sprinkle the rest of the scallions, reserving a tablespoon for the serving dish. Season with salt if necessary.
Prepare the noodles on a large serving plate, place the lobster on top and pour the sauce all over. Scatter more scallions on top. Serve immediately.
Chocolate meringues kisses with toasted almonds and apricot cream
(makes 7 to 10 small meringues, depending on size)
3 egg whites
150 g/ ¾ cup sugar (preferably extra-fine/ caster sugar)
A pinch of cream of tartar
A few drops of vanilla extract
To garnish:
200 g/ 7 ounces black/dark chocolate, melted au bain-marie
90 g/ 3 ounces almond slivers/amandes effilées
1 tsp granulated sugar
10 dried apricots, finely diced – 6 for the cream, and 4 for the meringue topping
180 ml 3/4 cup heavy cream, for whipping
2 teaspoon of icing sugar
Preheat the oven to 140°C/ 280° F
In a large glass bowl, beat the egg whites with an electric beater on a medium speed. When the mixture starts frothing, increase the speed to high. Incorporate little by little the sugar, vanilla extract and the cream of tartar, until the egg whites are glossy and form stiff peaks.
Spoon small to medium-sized meringues onto a parchment lined baking tray. Transfer to the preheated oven and cook for 55 minutes in the centre level of the oven.
Before taking them out, switch the oven off and leave the door slightly open for 10 minutes. They will cool down slowly and this will prevent them from cracking. Place them on a pastry rack and leave to cool completely.
Heat a sauté pan and roast the almond slivers, shaking the pan occasionally to avoid burning. Sprinkle a teaspoon of sugar and continue to roast for a couple of minutes more. The almond slivers are ready when they are golden. Take off the heat and set aside to cool.
Break the chocolate into small pieces, place in a heatproof bowl and melt au bain-marie (over a pan of simmering hot water). Set aside.
Whip the cream and icing sugar till stiff, then fold in 6 finely diced apricot.
Place the meringues on a parchment paper covered surface. Take a teaspoon or two (depending on meringue size) and pour over the tip of the meringue. Let it drip casually, then sprinkle the diced apricots and toasted almonds. The chocolate will set within 10 minutes.
Serve meringues with the apricot whipped cream on the side.