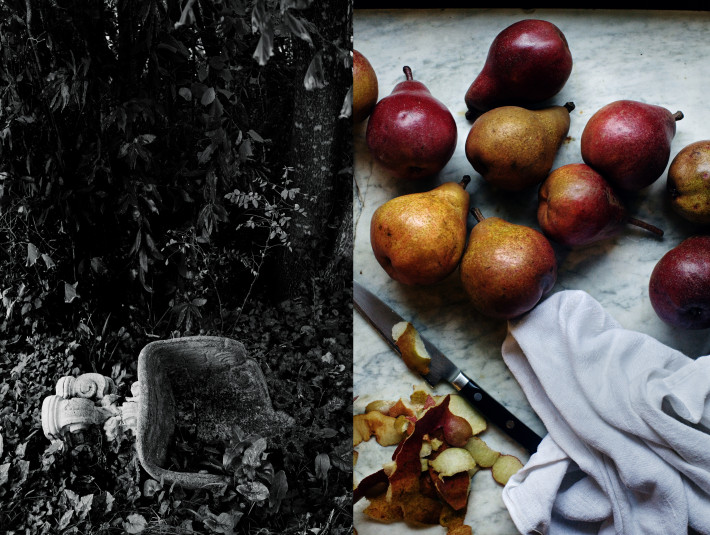 More than anything this is the story of a soup. But it has other characters. A sleeping lion, a few roses stubbornly refusing to go to bed, delicious quails, beautiful pears, a curious château and, of course, a dog. Let me take you back to last Sunday evening. It was cold and grey and humid. The kids were taking their baths and preparing their schoolbags for the week. I checked the weather forecast for Monday. It said, cold and grey and humid. As I've been a bit run down with a cold of my own I was determined to plan ahead and avoid a murky start to the week. I thought of my grandmother, what would she have done? Well, she would probably have made her vegetable soup, the one that was always brewing on her stove, throughout winter (and most of summer too, but in a lighter version – and sometimes with little alphabet pasta just for me), so simple and easy to make, so comforting and healthy. Most importantly it's a soup that's better the next day, so after the kids fell asleep I went back to the kitchen and started chopping.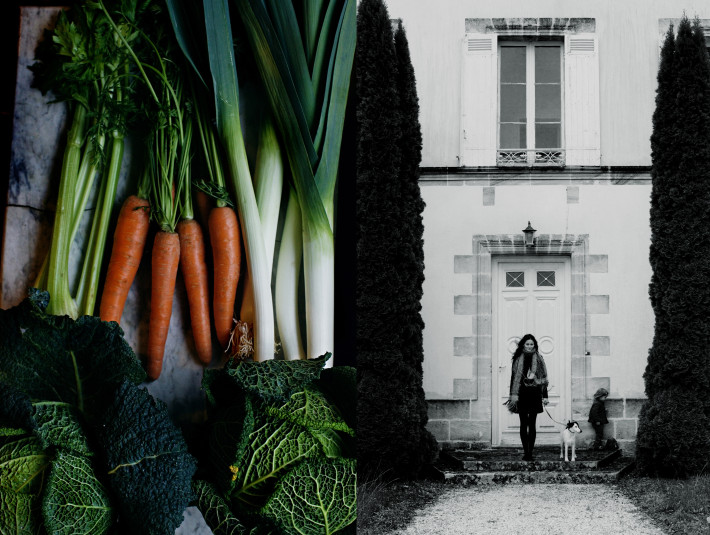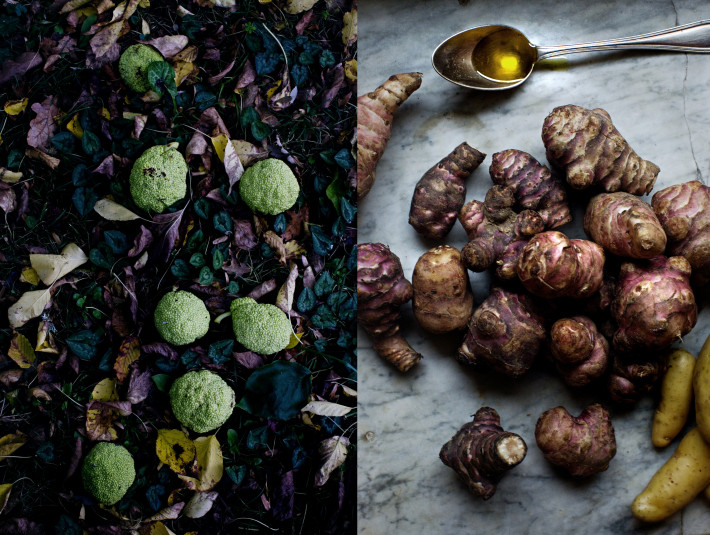 I probably wouldn't have thought of making that soup if we hadn't taken friends recently to one of our favorite restaurants in Médoc, the Lion d'Or in Arcins, just a few miles from the storied Margaux. It's such a classic place, you might have driven through Médoc fifty years ago and found a place just like it. It's like a luxury canteen where wine barons bring their own wine and enjoy it with the menu of the day, bottles after bottles of the most prestigious wines in France. The Lion d'Or means "The gold lion" but Louise, who was very little when we started going there, always called it the Lion dormir, which means "The sleeping lion". And now we just call it that. Somehow it really captures the spirit of the place, not quite a golden lion, but a calm, sleepy lion but with enough fire in it's belly to roar if you step on its toes. And some people have, I've heard stories. So we try to treat it with respect. On that last visit I had the simplest but most delicious vegetable soup. It was just like my grandmother's and reminded me, having been adventurous in the kitchen lately, that sometimes the best things are the simple things you grow up with. Next on the menu were some pigeon with foie gras and armagnac, then some cheese and canelés. It was the most satisfying restaurant experience I've had for a long time – when you are always cooking for others it's such a nice change to sit back and be waited on. Not least when the food is brought to your table by a waiterly waiter who looks like Adrien Brody's brother and serves every plate with a smile on his face.
Monday morning arrived, grey and cold as promised. I checked my soup, it had the scent of a very satisfying lunch and there would be enough for everyone at dinner too. That's when I started thinking of the sleeping lion and those pigeons. I wanted them too. "Are you busy?" I asked my husband as he was knee-deep in dog trouble. His expression said "sort of " but when I mentioned the pigeon he gave me an approving look and said "give me five minutes to lock up the beasts". One of them, Squiffy, just refused to come in. He's a year old now, a teenager, and is going through a rebellious face. He would go in the car, but not the house, so he came too. Fox terriers have a way of getting what they want. Sadly the butcher had no pigeon but he had the most tempting quails and I decided to improvise. The whole thing was improvised anyway, I would never have the courage to disturb a sleeping lion, just to ask for a recipe.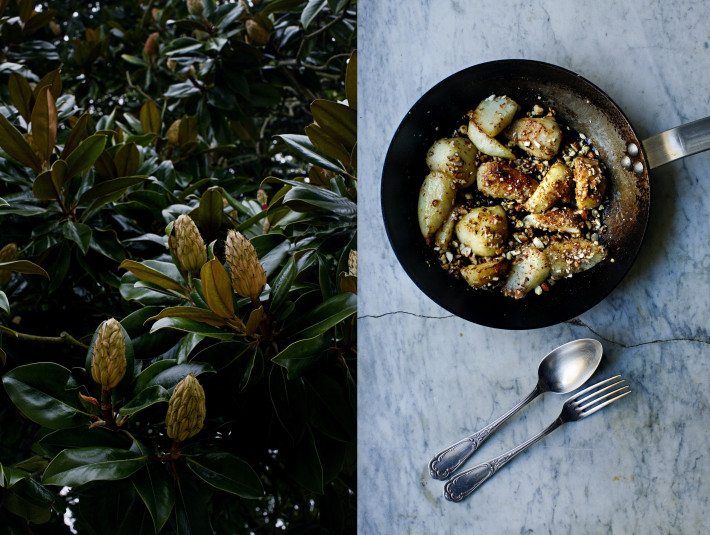 If our life here in Médoc has a thread running through it, that thread must be a tangled web of curious backroads and strange places. A different route means new discoveries, a turn in the road a new place to be found. Last Monday we took a different way back home from the butcher, just for the sake of it. We were dying for a walk somewhere in a vineyard, and Squiffy was eagerly scratching the car windows. A château caught our eye, the vineyards so golden and majestic magnolia trees all too inviting. We drove up through the gate and were greeted by a handful of pink roses that are defying late autumn and are refusing "to go gentle into that good night" This simply needed to be photographed. "I'll be quick", Oddur said. I thought it was more proper to get permission. We found a lady in a nearby house. Her husband's family owns the Château and as they are renovating it they live in a lovely cottage next door. We wanted to buy some wine and she took us on a tour of the castle. It's such an experience to walk through the grand halls of buildings like this, every room tells a story, and in this case, one room told the story of a previous owner's taste for seventies decadence. The wine comes in an orange labelled bottle, it's called château Escot, and we were very happy with it.
I love coming back home from these trips, with bread and wine and something wonderful to cook. It feels so cozy in winter to nest up in the house, light a fire, and play around in the kitchen. We had bought some pretty pears at the market on Saturday and even as I was peeling them I wasn't sure what to make of them. Something with chocolate or a pear tart? In the end the simplicity of the soup inspired my to continue with that theme and just fry them on a pan with some crushed almonds. With some salted butter caramel they turned out just right. Actually, it was so good, I think this is my favourite pear dessert!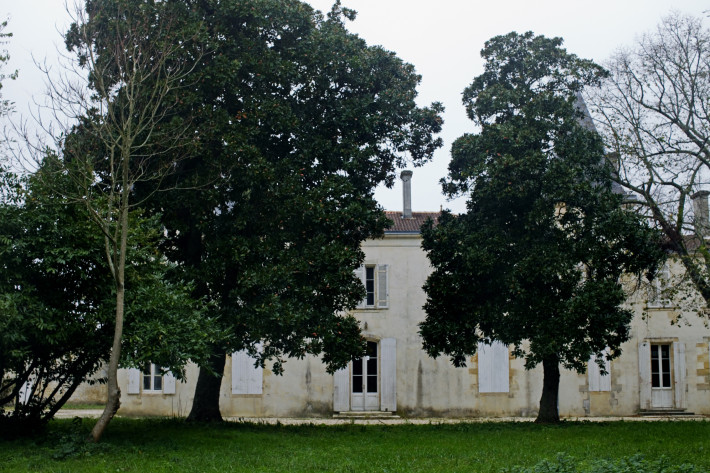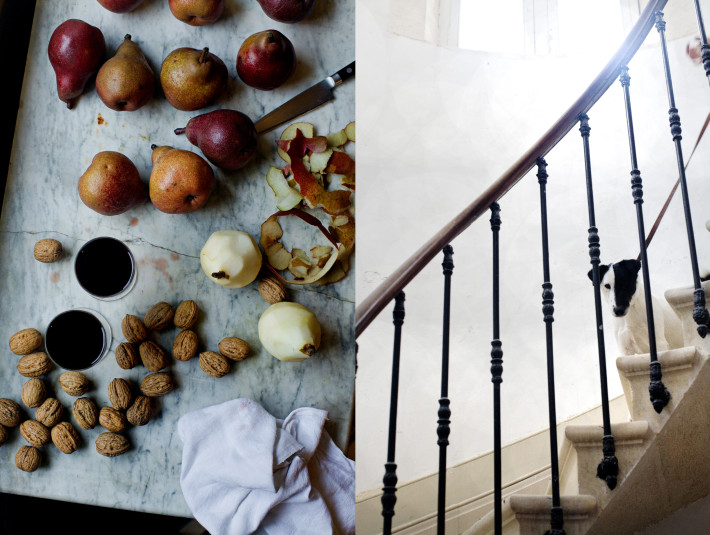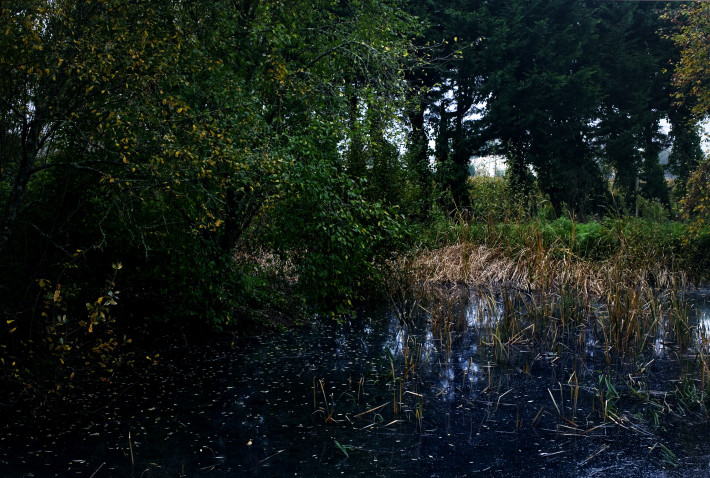 The abundance of summer is glorious, a wall covered with hundreds of roses, crates of fresh peaches or plums. But a satisfying meal in late autumn is like the last rose of summer – it's on cold days that a little beauty is most needed.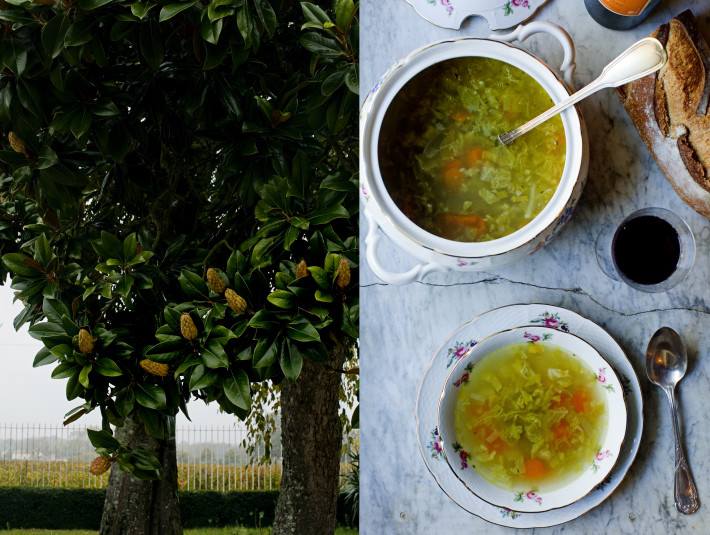 Vegetable potage
(serves 4-6)
Note: I usually make this soup in the evening, and leave to rest overnight until the next day for lunch. Or you can make it in the morning if you prefer to serve it for dinner.
3 medium-sized carrots, peeled and chopped into rounds
2 medium-sized potatoes, peeled & diced
1 leek (white part), chopped into rounds
1 celery, sliced
1/2 head of Savoy cabbage, coarsely chopped
2 sprigs of thyme
1 liter/ 4 cups water (or vegetable stock if you prefer)
2 tablespoons olive oil
2 tablespoons butter
Salt and black pepper
Slice carrots, potatoes, leek and celery. In a large pot, heat olive oil and cook all the vegetables and thyme (except for the Savoy cabbage) for 3 minutes on a medium heat. Season with salt and pepper. Add water and bring to a boil. Add Savoy cabbage and continue to cook on a medium heat for 30 minutes. Leave to rest for at least 6 hours, or preferably overnight. Reheat the soup, and add 2 tablespoons butter just before serving. Season to your taste. Serve with toasted baguette and butter.
Quails with foie gras and armagnac sauce
(serves 4)
Note: If you don't have Armagnac, I would suggest red wine, it's equally delicious!
Breasts and legs of 4 quails
4 small foie gras slices (optional)
100 ml chicken stock
1 tablespoon Armagnac
2 tablespoon unsalted butter
1 tablespoon olive oil
A few sprigs of chives, finely chopped
Preheat the oven to 210°C/ 410 F
Slice the quails breasts and legs.
In a sauté pan, heat olive oil and 1 tablespoon of butter until sizzling on a medium heat. Season breasts and legs with salt and pepper. Place the breasts (skin down) and legs and cook for 3 minutes on each side, until golden. Place in an oven-proof dish and transfer to oven for a few minutes, while you prepare the sauce.
In the same sauté pan, add the chicken stock, bring to a soft boil and add the Armagnac. Reduce for 3 minutes, until sauce is glossy and thick. Season with salt and pepper. Add a tablespoon of butter and stir until melted. Set sauce aside in a small bowl.
Heat sauté pan again on a high heat and cook the foie gras slices 10 to 15 seconds on each side, until golden.
Place quail and foie gras on a serving plate, drizzle Armagnac sauce all over and sprinkle with finely chopped chives. Season with salt and pepper.
Pumpkin, Jerusalem artichoke and potato mash
250 g/ 1/2 pound pumpkin, peeled & coarsely chopped
4-5 Jerusalem artichokes, peeled and sliced
4 medium potatoes, peeled and chopped
1-2 tablespoons unsalted butter
1 tablespoon olive oil
1 tsp salt
Cook vegetables in boiling salted water for 15-20 minutes, or until tender. Drain, mash vegetables with a potato masher, return pan on a medium heat and stir mash for 2 minutes to 'dry' it out slightly (pumpkin can retain a lot of water). Add butter and olive oil. Season with salt.
Pears with almonds and salted butter caramel
(serves 4-6)
4 pears (for this recipe I used William pears), cut into quarters
60 g coarsely chopped almonds
30 g salted butter
In a sauté pan, melt the butter on a medium heat. When the butter starts to slightly sizzle, sauté the pears on each side until golden, about 4-5 minutes. Add the almonds mid-way and continue to cook for 2-3 minutes, until almonds are golden.
For the salted-butter caramel sauce
100 g/ 1/2 cup granulated sugar
120 ml/ 1/2 cup cream (slightly warmed)
50 g/ 3 tbsp salted butter (at room temperature)
Melt the sugar in a saucepan on a medium heat. Do not stir until it has nearly all melted (it should be golden/amber-colored).
Take away from the heat, stir with a wooden spoon and gently pour the cream. Stir well, add butter, continue to stir.
Return to a low heat for 5-10 seconds , stirring constantly. If there are sugar lumps, continue stirring until it melts. Leave to cool.
To serve.
Place pears on a plate, scatter the almonds and drizzle the caramel. Serve immediately while warm.