My heart fills with joy when I see March appear in my precious diary. This month marks the arrival of spring in Médoc, with pretty flowers blossoming on trees everywhere. If I had to match a painting to this month, it would be Gustav Klimt's 'Mäda Primavesi'. The girl, the dress, the flowers – that's March for me. When I lived in Paris, I would go to the Jardin du Palais Royal almost everyday in March to see if the magnolia trees had blossomed.  I consider it to be my birthday flower, and when I see the first flowers bloom it's just like a blessing for a new year in my life.  It's just one of those euphoric things, when you appreciate everything associated with spring and the possibilites are endless. Where flowers bloom so does hope.
One of the new-found joys of country life must be the flowers. Back in Paris, we were so lucky to live just by the market of rue Cler in the 7th arrondissement, where we would buy our dose of flowers at the local florist, and extra special bouquets at the extraordinary Eric Chauvin. My kind of heaven consists of fluffy bouquets of peonies, sweetpeas and ranunculus. Now that we have become country folks, nothing can compare to the excitement of picking the most beautifully scented roses from our own garden and the surroundings. Wild cyclamens, daffodils, violets. I could go on and on. But the most exciting bouquets this month are branches from plum and magnolia trees. The combination of taupe brown wood with warm beigy pinks are exactly the kind of colors I would pick for my dream room.
The flowers just started to bloom this week, so you can imagine my level of happiness. Bright confetti petals exploding everywhere. My heart goes boum whenever I see un arbre heureux (happy tree). That's how my kids call them – every blooming tree is a happy tree!  Let's celebrate!
We are all admiring our latest flowers. I want to paint them so they will last forever. To accompany such a beautiful moment, I baked canelés. These little custardy cakes with a caramelized crust are a local delicacy, flavoured with vanilla beans and rum. Croustillants (crusty) outside and moelleux (soft) inside, each bite is pure pleasure. Canelés have a mysterious past, originating from Bordeaux. Traditionally , Bordeaux wines were clarified with egg whites, a vinification step called collage, leaving the yolk for cooking. Chateaux owners would give the egg yolks to local convents where the nuns conjured up their confections. This could have been the start of the canelés. They were apparently influenced by a cake called 'canole' made by bakers in Limoges and very popular in Bordeaux. I personally think that all of the above, as well as the influence of vanilla beans and exotic rum arriving at the port of Bordeaux all contributed to the legendary canelés.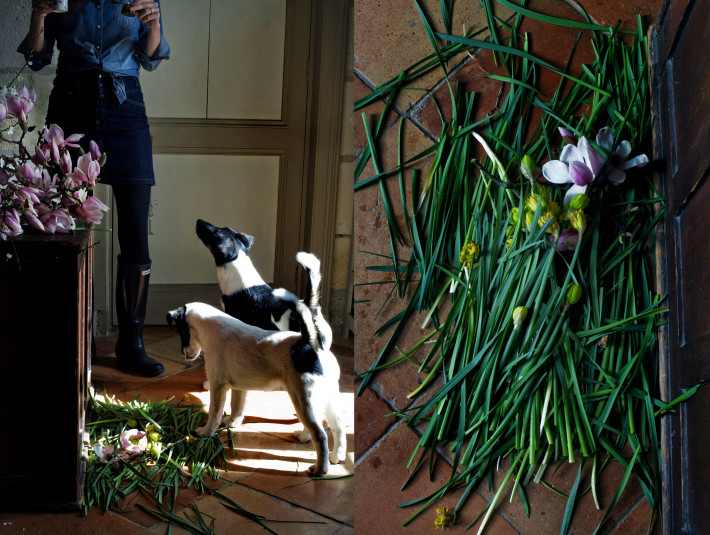 When you buy them, you are always asked if you prefer a canelé bien cuit (well-cooked, more caramelized) or moelleux (more chewy). It's really a matter of personal taste. I like them moelleux, to be exact, 55 minutes in the oven. The batter is as simple as it gets, then left 24 hours in the refrigerator. Let the batter have a good rest and develop all the right texture and taste, then it's 55 minutes in the oven, not more not less. The only thing you have to do is lower the temperature after 5 minutes, and voila. Here are my tips: I use silicone moulds, I don't line the moulds with butter because, in my opinion, it encourages the canelés to get crusty too fast. For those who prefer a more caramelized crust, you can bake them for 10 minutes longer.
Canelés are enjoyable any time of the day, as a tea time snack, as dessert, preferably with a sweet white wine, like a Bordeaux Sauternes or a Loupiac or at the end of the meal with coffee.  I am always in the mood for a canelé, if I have some left I'll even have them for breakfast with my morning cup of Yorkshire tea.  A canelé is always appropriate, especially here in Bordeaux.
Ingredients: (makes about 16 canelés)
You will need a canelés mould (I use silicone moulds).
500 ml/ 2 cups and 1&1/2 tbsp  full cream milk
120 g/ 1 cup plain flour (sifted)
200 g/ 1 cup granulated sugar
3 egg yolks
1 vanilla bean, split lengthwise
60 ml/ 1/4 cup rum
30 g/ 2 tbsp butter (melted)
In a medium saucepan, combine seeds from vanilla bean and milk, mix well – bring to a boil and set aside for 5 minutes. Whisk in sugar and sifted flour, mix well to avoid any lumps (if there are too many lumps, simply strain batter through a sieve). Add egg yolks, one by one, gently mix. Add melted butter, stir.  Finally, add the rum and whisk batter until smooth. The batter should be similar to a crèpes/ pancake batter – not too thick, not too thin.
When batter has cooled down, cover and place in the refrigerator for at least 24 hours.
I use silicone moulds and I don't line the moulds with butter. Fill canelés molds 2/3 of the way. Bake in a preheated oven 230°C/ 450°F for exactly 5 minutes, then lower temperature to 180°C/ 350°F and bake for an additional 50 minutes. Take out of the oven, leave canelés in molds for 5 minutes, then unmould them. Place on a wire rack and leave to cool.